Jim Taylor, the ferocious Hall of Fame fullback who embodied the Green Bay Packers' unstoppable ground game during the Vince Lombardi era and helped the team win four NFL titles and the first Super Bowl, died Oct. 13 at a hospital in his hometown of Baton Rouge. He was 83.
The team confirmed the death. The cause was not immediately known.
Mr. Taylor played during the great Packer dynasty and was the NFL's Most Valuable Player in 1962. He scored the first rushing touchdown in Super Bowl history.
"He was a gritty, classic player on the Lombardi teams and a key figure of those great championship runs," Packers President Mark Murphy said.
Mr. Taylor was voted into the Pro Football Hall of Fame in 1976. He spent 10 seasons in the NFL after being drafted in the second round out of Louisiana State University in 1958. He joined a backfield that featured Paul Hornung and began to thrive when Lombardi took over as head coach in 1959.
"He taught me lots of character, and virtues, and principles," Mr. Taylor said of Lombardi, with whom he occasionally feuded, in a 2001 interview with the Pro Football Hall of Fame. "He established a caliber of football that he felt like would be championship."
Lombardi devised the Packers' sweep, which featured pulling guards Jerry Kramer and Fuzzy Thurston clearing the path for Taylor or Hornung running around the end. The 6-foot, 216-pound Mr. Taylor best exemplified the play's punishing effectiveness, as a workhorse always charging forward, dragging would-be tacklers along.
In 1960, Mr. Taylor ran for 1,101 yards, topping Tony Canadeo's franchise mark of 1,052 yards in 1949. Through the 1964 season, Mr. Taylor had five straight 1,000-yard seasons and led the Packers in rushing for seven consecutive years.
In 1961, he ran for 1,307 yards and scored an NFL-best 15 touchdowns. The Packers rolled to a 37-0 victory over the Giants for Lombardi's first NFL title as coach.
The next year was Mr. Taylor's finest. He ran for a league-leading 1,474 yards and 19 touchdowns in 14 games, and scored the only touchdown in the Packers' 16-7 victory over the New York Giants for the second of his four titles.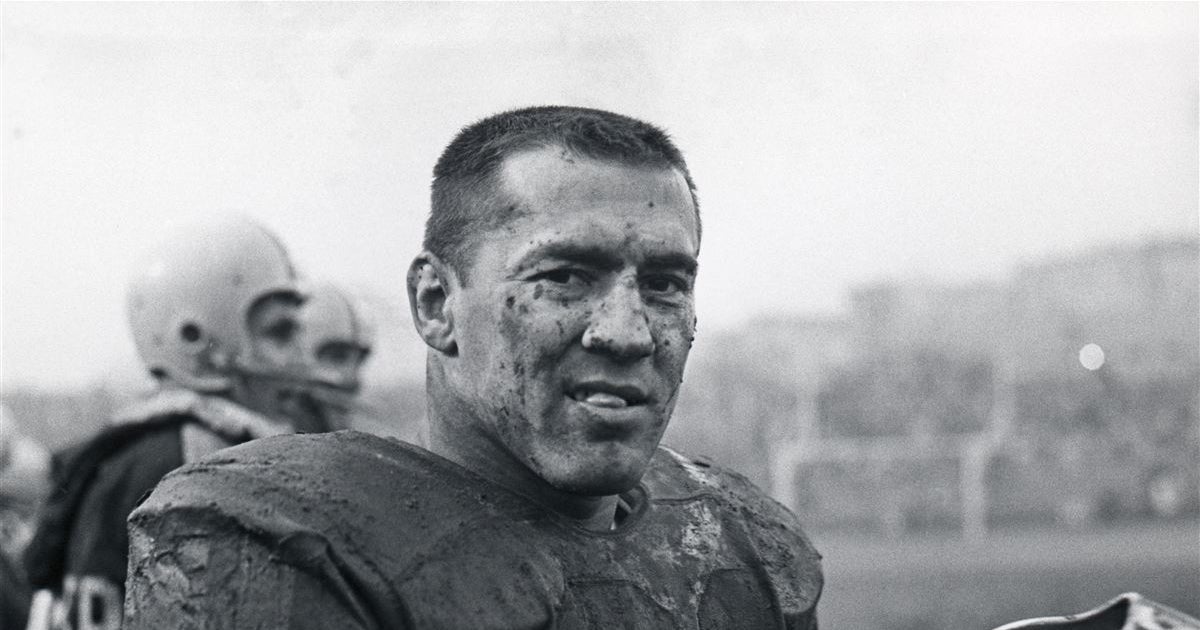 The 1962 title game pitted the Packers and the Giants, this time in New York, and was played in 40 mph winds and 13-degree temperatures at Yankee Stadium.
Mr. Taylor was at his toughest, picking up 85 yards on 31 carries against the vaunted Giants defense featuring linebacker Sam Huff. Taylor sustained a gash to his elbow that required seven stitches at halftime and cut his tongue during the game.
"If Taylor went up to get a program, Huff was supposed to hit him. Wherever Taylor went, Huff went with him," Kramer told the Associated Press in 2008. "I remember sitting next to Jimmy on the way home and he had his topcoat on. He never took it off. He had it over his shoulder and the guy was shivering almost all the way home. He just got the hell beat out of him that day."
The Packers won another NFL championship in 1965, and Mr. Taylor finished his Green Bay career after the 1966 season as the franchise's all-time leading rusher, with single-season marks for yards and touchdowns. He also scored the Super Bowl's first rushing touchdown, breaking a 7-7 tie with a 14-yard run in the second quarter. The Packers went on to defeat the Kansas City Chiefs 35-10 in the inaugural championship game between the NFL and AFL.
But his yardage tailed off sharply in 1966, and he was openly resentful of the high salaries paid to newcomers Donny Anderson and Jim Grabowski. Mr. Taylor played his final season in 1967 with the expansion New Orleans Saints.
His team record of 1,474 rushing yards was broken in 2003 by Ahman Green, who went on to set the franchise's all-time rushing mark in 2009.
James Charles Taylor was born Sept. 20, 1935, in Baton Rouge. He worked throughout his childhood to help support his widowed mother.
At Louisiana State University, Mr. Taylor led Southeastern Conference scoring with 59 points in 1956. He was a first-team all-American in 1957, when he shared the backfield with

halfback

Billy Cannon, who won the Heisman Trophy in 1959. Cannon died in May.
"With the ball under his arm, Jimmy Taylor is the finest player I have ever seen," then-LSU coach Paul Dietzel once said.
Mr. Taylor retired to Baton Rouge and remained close to the LSU football program. He was inducted into the Louisiana Sports Hall of Fame in 1974. Information about survivors was not immediately available.
Mr. Taylor was often compared to his contemporary, the Cleveland Browns' Jim Brown, but Lombardi had different views on two of the most punishing running backs in the league at the time.
"Jim Brown will give you that leg (to tackle) and then take it away from you," Lombardi said. "Jim Taylor will give it to you and then ram it through your chest."