By Billy Witz
https://www.nytimes.com/
July 17, 2017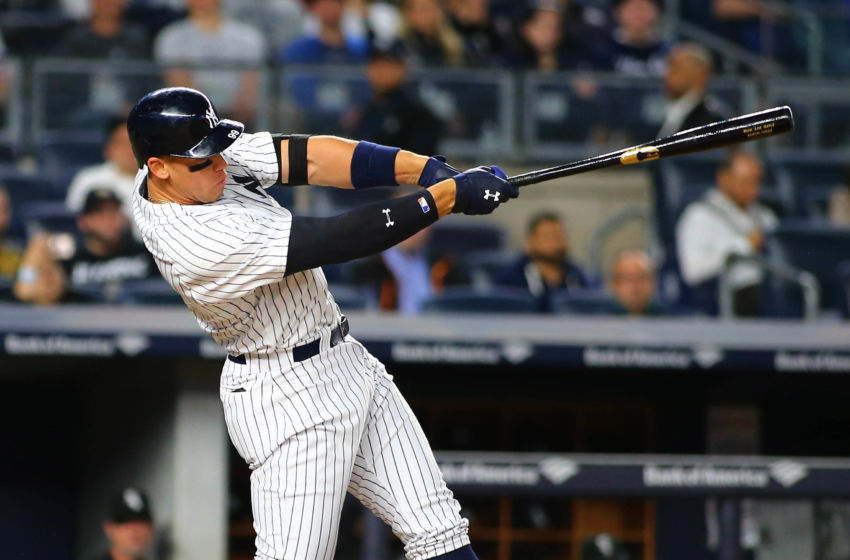 Apr 17, 2017; Bronx, NY, USA; New York Yankees right fielder Aaron Judge (99) hits a two run home run against the Chicago White Sox during the fifth inning at Yankee Stadium. Mandatory Credit: Andy Marlin-USA TODAY Sports
When Milwaukee outfielder Keon Broxton went clattering into the center-field wall this month at Yankee Stadium
to steal an extra-base hit
from Aaron Judge, he also caught something else: the sight of Judge smiling at him.
"It was just a friendly smile — 'Hey, c'mon, man, why you got to do me like that?'" Broxton said with a laugh. "And I'm like: 'Yeah, you got 30 bombs. Chill. It's O.K.'"
Several innings later, Judge sent Broxton scrambling again with a towering fly ball. Broxton turned and ran, tracking the ball's flight, certain that he'd haul it in again. As it turned out, Broxton was not close. The ball clanked off the facing of the restaurant windows above Monument Park — an estimated 445 feet from home plate.
Judge, who is 6 feet 7 inches and 282 pounds,
leads the major leagues
in home runs and showed off his prodigious power before a national audience last week in
winning the Home Run Derby
during the All-Star Game festivities in Miami.
But Judge, his uncommon size notwithstanding, is not just a musclebound galoot who clubs baseballs over the wall with brute strength. His swing, from start to finish, is a portrait of technical precision that has allowed his rare physical gifts to flourish.
Nobody hits the ball harder — his average exit velocity, 96.2 miles an hour, is by far the highest in baseball. And nobody hits more balls farther more often — 14 of his homers have traveled at least 425 feet, including a 496-footer that is the longest in baseball this season.
Judge has returned from the All-Star break in a brief funk with one hit, a dribbler in front of the plate, in 15 at-bats entering Sunday night's game against the Red Sox. But his starburst of a first half was born of a winter of work — tinkering with and refining the mechanics of his swing after a rude introduction to the big leagues last August, when he batted .179 and struck out in half his at-bats.
"It's a project," said Judge, 25, who declined to discuss in detail his swing or the changes he had made. "Ever since I got drafted by the
Yankees
, I've been working on my swing. So it's just a culmination of all those things, and I'm finally starting to see some results."
Still, Yankees' hitting instructors and opposing catchers and pitchers point to a number of subtle changes that have been integral to his transformation. Judge is standing slightly farther off the plate than he was last season, the leg kick that he incorporated in the minor leagues at the start of 2015 has been toned down, and his weight, when he assumes his stance, is now anchored firmly on his back hip.
That last point may be the most significant. When Judge met with the hitting coach Alan Cockrell and his assistant, Marcus Thames, at the end of last season, they had a message to convey: Judge needed to make better use of the lower half of his body.
How to do that was left up to Judge. So over the winter, he pored over video of players he admired, like Josh Donaldson, Miguel Cabrera, Barry Bonds and Alex Rodriguez, power hitters who used the entire field. He focused on trying to feel anchored on his back hip, where he could not only achieve good balance, but also feel the force he could unleash with his swing. Judge said in February that Rodriguez told him "he wanted to feel like he was squatting 300 pounds."
As a result of being "cemented on his back side," as Houston Astros catcher Brian McCann put it, Judge's head has less movement now, which has helped him recognize pitches — be it the spin on a two-seam fastball that runs inside or a breaking pitch that swerves off the plate.
Judge has reduced his swings at pitches out of the strike zone by almost a third, to 25 percent from 34 percent last year, taking him from the range of his free-swinging teammate Starlin Castro to that of Boston's selective Dustin Pedroia.
"The good hitters, you don't gain too much ground forward," Toronto catcher Russell Martin said. "It's kind of a theme: They have their heads still because your head is your camera. If you move your head at all, it kind of changes how you're seeing things."
By staying so heavily weighted on his back side, carrying that sensation of squatting 300 pounds through his hip, Judge has improved his pitch selection and his balance. In the early part of his swing, it is as if the lower and upper halves of his body are operating independently — throughout the leg kick there is little movement from the waist up. Although many hitters lose power when their front foot comes down after the leg kick, when Judge's front foot lands his body remains back — and his hip still loaded — waiting to unleash the torque from his hips.
That force was unbridled this month on a 3-2 fastball at the knees from the Blue Jays left-hander J. A. Happ.
The pitch was hit
at 118 miles per hour and on a line (the ball left the bat at an angle of 18.2 percent, his lowest launch angle of any home run this season), and it left a dent in a metal door casement in the Yankees bullpen. The distance was put at 453 feet.
"That's as hard a ball as I've ever seen hit," Martin said.
Aaron Judge holding his 2017 Home Run Derby trophy (Photo by Rob Carr/Getty Images)
Judge's ability to hit the ball so hard also helps explain why he is hitting for such a high average, .319, fifth in the American League entering Sunday's games. While he still strikes out a lot — 112 times, on pace to shatter Curtis Granderson's franchise record of 195 for a single season — Judge hits ground balls so hard, they often scoot through the infield. He is hitting .411 on balls in play, second best in baseball.
It would figure that such an enormous man with long limbs, or levers in baseball parlance, would find adaptations to his swing to be laborious. But Judge has long been skilled at translating what he sees, hears and feels into the movements of his swing. If there is a glitch or a fundamental change, he can translate the fix quickly.
"His proprioception — what his body parts are doing when he's not looking at them — is off the charts," said Mike Batesole, Judge's coach for three years at Fresno State. "I can take Judgie right now and in half a bucket fix his swing. Some guys it's a two- or three-day process. We're going to start here, work our way through this kink and that will help with the next kink. He's not that way."
When Cockrell and Thames sent Judge away last fall, they wanted him to consider ways to better incorporate the lower half of his body. They also wanted him to re-evaluate his approach. With 95 major league plate appearances under his belt last season, he had an idea how pitchers were trying to get him out. It was the study guide he used to begin preparing for the test of his first full season.
"What am I taking to the plate to face this guy? What is this guy trying to do to me?" said Thames, who began working with Judge at Scranton/Wilkes-Barre in 2015. "He's looking in a certain location and he's ready to go."
One of those instances came early in the season, when Judge was ahead in the count against the Chicago White Sox left-hander Derek Holland, who delivered a 3-1 curveball. Judge hit it into the left-center-field bullpen at Yankee Stadium.
He was asked afterward if hitting the type of pitch that had given him trouble the year before was gratifying.
"The big thing is, it's about learning which off-speed pitches to swing at," Judge said that night. "A lot of people say, 'Oh, this guy can't hit a curveball, this guy can't hit an off-speed pitch.' But it's about swinging at the right one. Swing at the hangers. Swing at the ones you can handle."
If one element of Judge's approach is discerning how the pitcher is trying to get him out, the other is formulating where he wants to hit the ball. Thames described it as "trying to hit it through the center-field wall," which explains why Judge's home runs have been so equally dispersed: 10 to left field, 11 to center and nine to right.
The book on Judge before this season was a brief one.
"Just spin him," Blue Jays reliever Ryan Tepera, referring to breaking balls, said of Judge, whom he has faced six times in the big leagues and also in the minor leagues last season.
But all the modifications — honing of his pitch recognition, moving a bit farther off the plate and refining his approach — have coalesced so neatly that pitchers are reconsidering their approach.
"I threw some really good off-speed pitches that stayed in the zone and broke late, and he spit on pretty much every one," said Brewers left-hander Brent Suter, who gave up a single and a walk to Judge and also struck him out.
The Oakland right-hander Jesse Hahn, who struck Judge out twice and walked him once, said that Judge's newfound ability to lay off pitches out of the strike zone is "a very superstar-like quality; very few guys can do that at that young of an age."
As he patrolled center field last weekend at Yankee Stadium, the Brewers' Broxton had a clear view of just how together Judge looked at the plate. Broxton said that when he faced Judge in the minors last year, he was not anywhere near the menace at the plate that he is now.
But Broxton said he was not surprised.
"You could see the talent; you could see what he was capable of," Broxton said. "Right now, any pitcher that steps on the mound and he gets in the box, they're obviously going to be a little shaky. They're going to want to control every single one of their pitches way better than they would any other batter. There's definitely an intimidation factor when he steps into the box."