Editorial of The New York Sun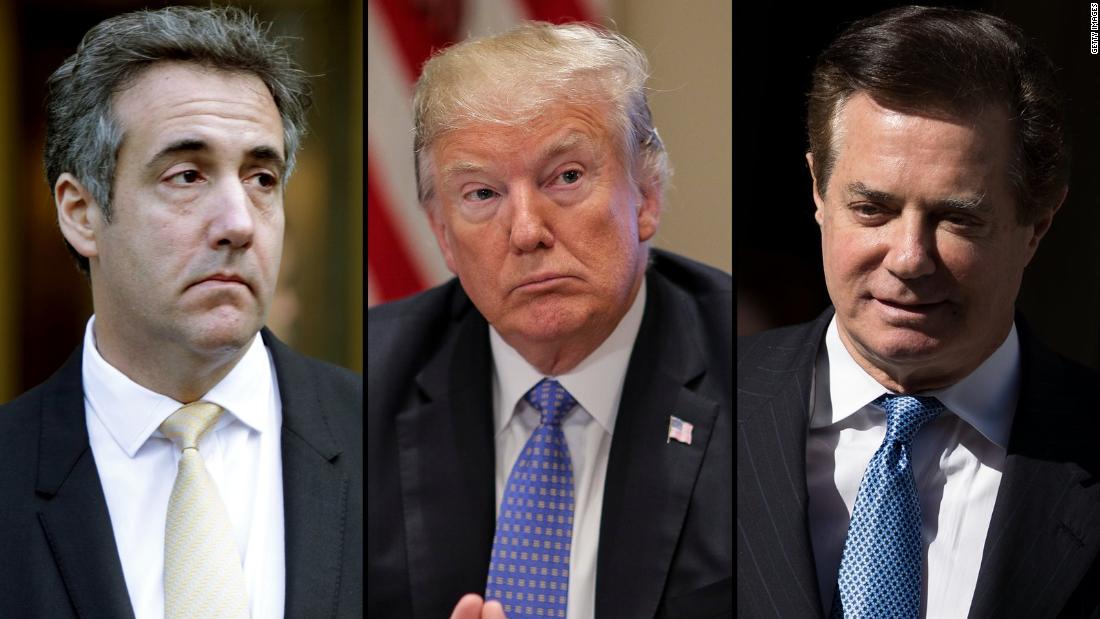 Michael Cohen, Donald Trump and Paul Manafort
From President Trump's point of view, it will be hard to put the gloss on the developments today in federal criminal court. First came news that the president's erstwhile personal lawyer, Michael Cohen, would be pleading guilty, albeit without an obligation to turn state's evidence. Then came news of a jury's conviction of Mr. Trump's erstwhile campaign chairman, Paul Manafort, on eight counts, albeit crimes unrelated to the president. The crimes of both are felonies.
Yet if we were the judge — a stretch to be sure — we would reject the guilty plea in the one matter that intimately threatens Mr. Trump's presidency. That is Michael Cohen's claim that his role in arranging to pay so-called hush money to Stormy Daniels and another woman amounts to a violation of campaign finance law. That, at least to us, is by no means clear. If the law bars such payments, it's probably unconstitutional. Americans deserve to have it tried in court.
Particularly because Cohen's plea puts the President in a terrible box. Cohen, after all, is pleading in court that it was at Mr. Trump's direction that he paid for the settlements with the two women who say they had affairs with Mr. Trump and won financial settlements from him. Yet by cutting a deal with the prosecutors, Cohen a) stipulates that what he did was against the law and b) denies his ex-client the chance to contest his allegations in an adversarial proceeding.
The Bard himself couldn't have come up with such a plot. It features the fact that the president's erstwhile lawyer is now being represented by, in Lanny Davis, a long-time friend and adviser to the candidate Mr. Trump defeated for president. Feature how the New York Times frames the situation. It notes Cohen's plea agreement "does not call for him to cooperate with federal prosecutors in Manhattan," but neither does it "preclude" him from singing to Robert Mueller.
Mr. Mueller is now going to use the prospect of a long sentence to wrest Manafort's cooperation in the case against President Trump. We have that on no less authority than the presiding judge in the Manafort trial, T.S. Ellis III, who warned early on that the prosecution was trying to squeeze Manafort to turn against the president whose campaign he chaired. So Mr. Trump will soon be in an unprecedented vise, as the world grows more dangerous by the hour.
This is why the Wall Street Journal was so prescient when it said Mr. Trump should have fired James Comey on his first day in office. It is why we have been saying that Mr. Trump should have put a stop to the special prosecutor the day he was named. It is why we have encouraged him to use every one of the powers — including commissioning prosecutors and the pardon — that are granted to him in the Constitution he swore to preserve, protect, and defend.
What needs to be kept in mind at every stage is that this whole investigation is not about Russian meddling. Everyone agrees that they did it and it was wrong. No one needs a special prosecutor to get to the bottom of that. This is part of an effort by the Democrats and their collaborators to overturn a presidential election that they thought they would win. No crime of which either Paul Manafort or Michael Cohen was pronounced guilty today is as foul as the campaign underway to foil the decision of the American people.