By Christian Red
http://www.nydailynews.com/sports/
June 24, 2017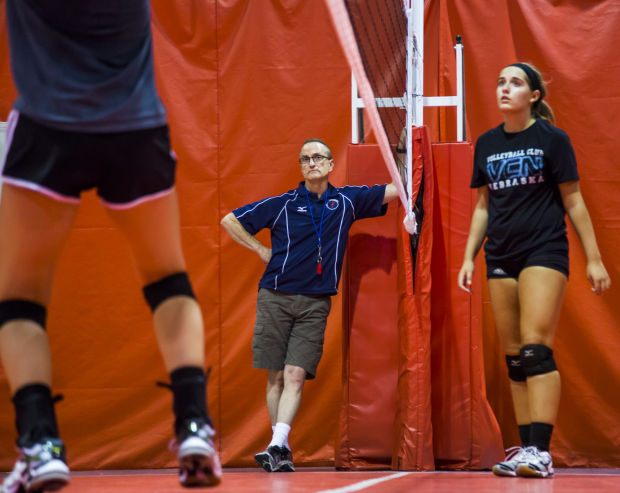 Rick Butler running a volleyball camp in Nebraska in 2014. (Stacie Scott/Lincoln Hournal Star)
The mental anxiety and dread she experienced from seeing her alleged abuser on the opposing sidelines this past week were no less severe than what Florida volleyball coach Sarah Powers-Barnhard endured a year ago at the same junior national championship tournament in Orlando.
"The anxiety was still big. It's like Groundhog Day," says Powers-Barnhard, a Jacksonville, Fla., volleyball club director whose teams played in the nationally-televised Amateur Athletic Union (AAU) girls' volleyball tournament in Orlando, which ends Monday.
But while Powers-Barnhard had to brace herself for the uncomfortable moment when she would again be in the same arena and on the same court as Rick Butler, her former volleyball coach and the man Powers-Barnhard and several other women say sexually abused them when they were teenagers in the 1980s, Powers-Barnhard says she was buoyed this year by an outpouring of support on numerous fronts. That includes an online grassroots movement in which a Denver attorney is making sure the public knows about Butler's past.
Butler, the owner of the Illinois-based Sports Performance Volleyball Club and an influential figure in the sport, received a lifetime ban from USA Volleyball (the sport's national governing body) in 1995 after Powers-Barnhard and two other women testified against him before a USAV ethics panel that same year. However, Butler was reinstated by USAV only five years later, in 2000, in an administrative role. Butler acknowledged to the '95 ethics panel that he had sex with the three women who testified against him, but Butler said the relationships were consensual and that they began after the women had turned 18. The legal age of sexual consent in Illinois is 17.
Powers-Barnhard last year filed a lawsuit against the AAU in Florida state court, and the amended complaint accuses the organization of violating Florida's Deceptive and Unfair Trade Practices Act by allowing Butler to coach in AAU events (like the one in Orlando), even though the AAU's policies bar membership of those accused of sexual misconduct. The complaint also accuses the AAU of negligence.
The Illinois Department of Children and Family Services (DCFS) said in 1995 that it found "credible evidence" that the allegations against Butler were true, but Butler has never faced any criminal charges.
Nancy Hogshead-Makar, the CEO of Champion Women, an advocacy organization for girls and women in sports, launched an online petition earlier this month demanding Butler's lifetime ban be enforced. So far, there are more than 2,200 signatures and counting.
"Our petition, our letters to the AAU, USA Volleyball and their sponsors is bigger than removing a single coach from contact with athletes. It is about getting sport governing bodies like the AAU to abide by their own rules regarding sexual abuse, to prioritize athlete safety over finances," says Hogshead-Makar.
And Powers-Barnhard says she helped hatch the idea of making teal-colored T-shirts with the phrases, "We Stand With Them" and "Ask Me Why" emblazoned on the front and back, so that volleyball players, coaches and attendees to the AAU event in Orlando could sport the shirts during the tournament.
Butler continues to deny the abuse allegations, and his attorney Terry Ekl calls the amended complaint "baseless," while predicting it will be dismissed in court.
"Rick Butler has never sexually abused any individual and the allegation made by "change.org" (petition) that he did so over 30 years ago is absolutely false. Rick Butler has never been accused by USA Volleyball, AAU, or law enforcement of illegally abusing any player or committing any crime, and there is no factual basis for "change.org" to make such a defamatory allegation," says Ekl's statement.
Meanwhile, Denver attorney Emily Swanson, who is also a volleyball coach and is a member of the USAV Rocky Mountain Region board of directors, is determined to make sure that the past accusations made against Butler are fully transparent. Swanson has posted on her Facebook page, transcripts from that '95 ethics panel, letters allegedly written by Butler, and numerous other documents pertaining to Butler. The Facebook posts have generated much discussion -- some of it contentious -- among Butler opponents and supporters.
"There has been a lot of information out there. I wanted all the documents in their entire glory for people to read and form their own opinions. I wanted to give people all the information and if their reaction happens to be outrage, and there's a desire to incite change, then great. This is an issue we need to be fully transparent with," says Swanson. "I want Butler out. That's part of my ultimate goal. My other goals are to not have these types of people in coaching, to have associations and organizations stand up to this behavior, and to help communities understand that it is OK to stand up when something is wrong."
Related:
She Says She's Haunted by Coach's Misconduct : Volleyball: Julie Bremner took six years to come forward with her story of sexual abuse. -
http://articles.latimes.com/1995-10-19/sports/sp-58618_1_volleyball-officials
A Victim'e Courage: Former Volleyball Players Breaks Silence 3 Decades After Alleged Abuse -
http://www.nydailynews.com/sports/i-team/ex-volleyball-player-breaks-silence-abuse-3-decades-article-1.2714260
USA Volleyball Admits Reinstating Rick Butler After Sex Abuse Allegations Was a Mistake -
http://www.nydailynews.com/sports/i-team/usa-volleyball-regrets-reinstating-coach-accused-sex-abuse-article-1.2700527