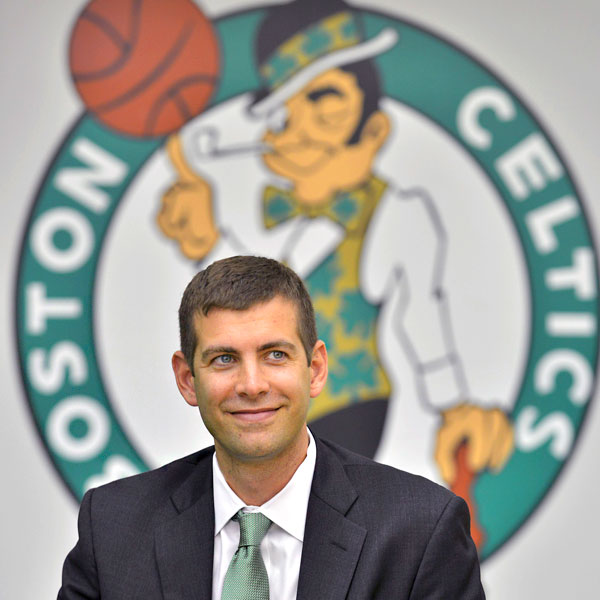 Brad Stevens sat in a hotel coffee shop last February on a cold Saturday morning killing time before his Butler basketball team played later that day against George Washington at Smith Center.
"I guess the only thing I know for sure about the future is that I'll be coaching against someone here in Washington," he said with a laugh about the possibility of Butler leaving the Atlantic 10 Conference for the
new Big East
. "The only thing I don't know is which building I'll be coaching in."
Verizon Center turned out to be the building. But the opponent won't be Georgetown. It will be the
Wizards
.
In one of the more stunning coaching moves in years, the
Boston Celtics hired Stevens as their coach
on Wednesday. To everyone in basketball, Danny Ainge's
way
-outside-the-box decision came from nowhere. Stevens's name had never been mentioned. At 36, he is unquestionably one of basketball's great young coaches, but if he left Butler — considered a big
if
by everyone in the sport, including Stevens — it was considered a given that it would be for one of
the
college jobs: Indiana, Duke, North Carolina, Kansas.
The list might not even have been that long. Stevens had already turned down several big-time openings — including UCLA this past spring — after becoming one of the game's bright lights in the wake of Butler's back-to-back trips to the national title game in 2010 and 2011.
The thought that Stevens's next stop might be in the NBA crossed very few minds. He loved coaching at Butler. He had grown up in the Indianapolis area, gone to college there and worked there — first as the young corporate executive he is often mistaken for, then as a coach at Butler for 13 years — the first seven as an assistant; the last six as the boss.
His departure is a loss for Butler, but more than that it is a punch in the stomach for college basketball. Stevens wasn't just one of the best and the brightest, he was one of the college game's truly good people.
He won 166 games in those six years helming Butler, an average of just fewer than 28 victories a season. If he had maintained that average for the next 30 seasons — granted, easier said than done — he would have been at 1,000 victories at 66, the same age Mike Krzyzewski, the college game's all-time winningest coach (957 wins) is right now.
There's no doubt that money played some role in this decision. Butler was reportedly paying him about $1.2 million per year, and his contract was through 2022. That's very good money with lots of job security.
But the Celtics, according to several reports, will pay him $22 million over the next six years, meaning his salary will at least triple. Stevens has two young children, and that kind of money will create a lot of financial security for them. What's more, if the NBA doesn't work for him, athletic directors will line up around the block for the chance to return him to the college game.
There will, of course, be those who will point out the lack of success college coaches have had making the transition to the NBA. Most will fail to point out that in almost every case, including Rick Pitino's disastrous run with the Celtics from 1997 until 2001, the coach was taking over a very bad team. In fact, Pitino had success in New York when he first made the college-to-NBA jump from Providence in 1987.
Clearly, Stevens isn't being handed the keys to a very good team. Ainge made the decision to go back to square one on draft night when he agreed to trade Kevin Garnett (who is older than Stevens), Paul Pierce and Jason Terry to the Brooklyn Nets for, in essence, three No. 1 draft picks. As of now, the Celtics are Rajon Rondo and a bunch of reasonably good role players. The days of the Big Three — Garnett, Pierce and Ray Allen — that led the Celtics to an NBA title in 2008 and the finals in 2010 are long gone.
If the Celtics make the playoffs next season, Stevens should be coach of the year. More likely, they'll be in the lottery and they can begin restocking with the first of the nine first-round draft picks they now own in the next five drafts.
That's one reason why this is such a brilliant hire. The Celtics are going to be a young team, and Stevens will be the perfect young coach to mold them in the same kind of tough-minded, get-after-it-on-defense culture that he nurtured so well at Butler.
It's worth remembering that one person who didn't believe in the notion that a great college coach can't become a great NBA coach was Red Auerbach. In 1990, he flew to Washington to meet secretly with a relatively young college coach who had made a name for himself by taking his team to four Final Fours and two national championship games in five years.
Krzyzewski almost took the job Auberbach offered that day — "because it was the Celtics and because it was Red Auerbach," he said — but ultimately stayed at Duke.
Auerbach wasn't around to woo Stevens, but there's no doubt that Ainge was able to sell him on the fact that, even when they are rebuilding, the Celtics are still the NBA's signature franchise.
Under Stevens, they will no doubt become The Celtics again. And you can bet, that, somewhere in the Boston Garden in the sky, Auerbach just lit up a cigar.
Photo: AP
Related: