By Luke DeCock
https://www.newsobserver.com/sports/article219390105.html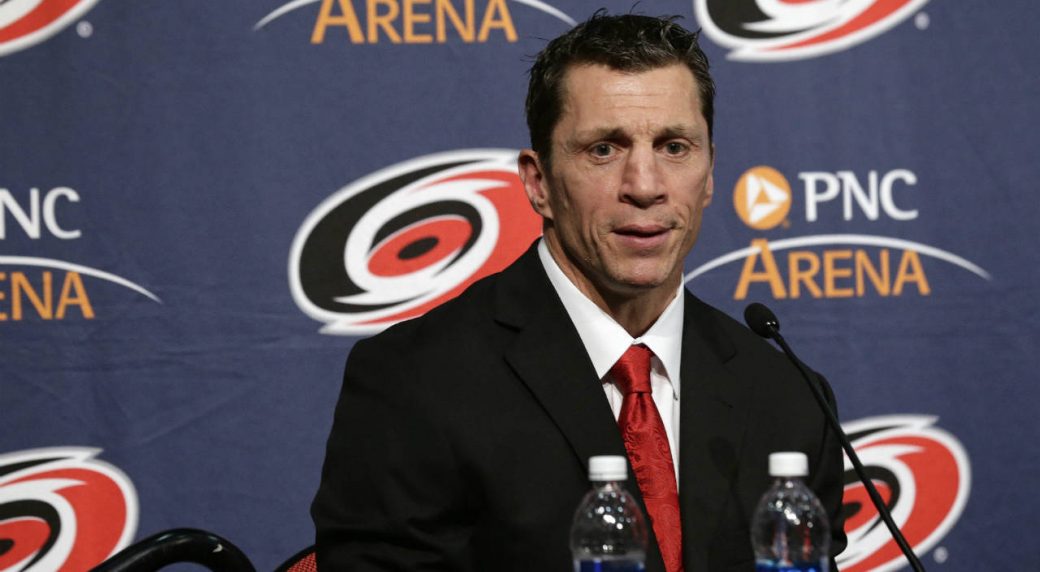 RALEIGH
When Rod Brind'Amour needs a reminder about what comes next in practice, he lifts his hat. He keeps his notes tucked into the sweatband, on the inside, a coaching hack he picked up from former coworker John MacLean.
When the Carolina Hurricanes need a reminder of who they are supposed to be – as players, as a franchise – they need only lift their eyes to their coach.
A team desperately in search of an identity found one where it had been hiding all along, in the last place the new owner ever thought he would look, in the person who set the tone for the franchise's greatest success.
"Roddy has, in essence, been a one-man rebranding," new Hurricanes owner Tom Dundon said. "What it means to be a Hurricane means something different to him than it does to everyone else."
Brind'Amour is a beacon for a franchise looking to find its way, one that has cried wolf so many times selling the promise of the future that it can't now, even with a promising future to sell.
What is left to market? What is there to build around? Only Brind'Amour, who personifies everything that once was right with the Hurricanes. And could be again.
Even those too young to have played against him – and only Justin Williams and Jordan Staal have – knew him by his reputation as a player and his musclebound nickname.
"Everybody knows how Roddy was as a player," Hurricanes defenseman Brett Pesce said. " 'Rod the Bod,' the hardest-working guy out there."
Brind'Amour may or may not be a good hockey coach, and the book will remain open on that for a while. But there's no doubt about this: the Hurricanes are being remade in his image, not only as a coach but what he represented as a player, not only on the ice but off of it.
This has suddenly become Brind'Amour's team, in more ways than one.
Rod the Bod has become Rod: The Brand.
THE RIGHT MAN, THERE ALL ALONG
Ron Francis' decision to sign as a free agent changed the image and mood of a team struggling through a difficult and in some ways mismanaged move to North Carolina; Brind'Amour's decision to re-sign in the fall of 2001, a change of heart that would represent a massive change of fortunes for the franchise going forward, changed the Hurricanes' hockey DNA.
His reputation preceded him, the workout fanatic who had muscles on his feet other professional athletes couldn't identify, but it wasn't until his promotion to captain before the 2005-06 season that his leadership qualities truly came to the fore. Even before that, there was no room for other players to cut corners, not with Brind'Amour and Martin Gelinas pounding out miles on treadmills inclined at dangerous angles immediately after games. Given the keys to the room, Brind'Amour had new license to drag his teammates along with him.
After he was forced to relinquish the captaincy to Eric Staal in January 2010, the Hurricanes muddled along for a few years. (They should have made the playoffs in 2011, their first full season without Brind'Amour on the ice.) But the long, dark winter of their mediocrity soon descended upon the franchise, a team that was neither young nor old, talented nor gritty. A team without a future and without, increasingly, a past. A team with no identity, no personality. A team that would see backup goalies and get half-efforts from other teams, condescended to and overlooked. A team that was kind of just … there. Year after year.
Brind'Amour was a part of those years, as an assistant coach, but not willingly at first. He had to be talked into coaching by then-general manager Jim Rutherford. (He once missed an NHL game to coach his son's team, part of the deal he cut with Rutherford.) He was a supplementary part, a foot soldier, under Kirk Muller and Bill Peters, the strongest aspects of his personality subsumed in these complimentary roles.
And this was what Dundon thought he was getting in Brind'Amour when he bought the team; a drone, a former player living on past glories, part of the problem and not part of the solution, let alone the solution itself.
Dundon has since cut ties with a healthy chunk of the men in power when he bought the franchise, most notably Francis as general manager, but a few survivors have risen quickly up the food chain. Don Waddell found favor as Dundon's consigliere. Darren Yorke went from video scout to director of player personnel. And Brind'Amour rose higher in Dundon's esteem than any of them.
The more Dundon observed Brind'Amour, the more he respected his work ethic and intelligence. The more he got to know him, the more he came to appreciate Brind'Amour's innate understanding of the dynamics of leadership.
Even before the decision was made to move on from Peters – who, seeing the writing on the wall, jumped to the Calgary Flames when allowed to exit his contract – Dundon assumed and expected the team's next coach would have to come from outside the organization to change the culture in the ways it needed to be changed.
Until he realized that the right man to do that was there all along.
"There's a culture now, here," Dundon said. "It changed really quickly and I give Roddy all the credit."
'THERE'S A FEELING THAT YOU HAVE'
That all sounds good: Oh, we have a new identity, and it's Rod Brind'Amour. He works hard. He accepts no excuses. He holds people accountable.
It's also meaningless in the absence of results, which imbued this training camp and this preseason with significance that far exceeded the usual. Brind'Amour set the tone early – this would be no "low-intensity training camp," to relive one of Paul Maurice's great miscues – and got the on-ice performance to back it up. While other teams were dancing through the preseason, which is not a criticism of them in the slightest, the Hurricanes were sliding all over the ice, blocking shots and generally playing as if it was November and not September.
There was a sense, in some of those early games, that the opposition was collectively shaking its head a bit in disbelief at how seriously the Hurricanes were taking things. And even if the goal totals were inflated by a red-hot power-play going up against cobbled-together penalty-kills, the intensity the Hurricanes displayed was unusual for preseason standards.
"That's a feeling that you have," said Williams, Brind'Amour's former Hurricanes linemate and hand-picked captain. "It's not anything that you say. It's a feeling. And I feel it. I think if you ask the majority of the guys, they probably feel it, too. There's a change in atmosphere and a change in competitiveness. In saying that, you don't want to get too far ahead of yourself. We haven't played games yet and we haven't created our identity yet. We have to sustain that."
Already, though, it's the best marketing the Hurricanes have. The final preseason game,with former Hurricanes coach Peter Laviolette pushing his Nashville Predators to make a statement and Brind'Amour demanding his team dig deep to answer, was fiery and spiteful, and the nearly full crowd loved it.
This franchise needs to win to be successful here, but that may be too much to ask of this team right away. How many games the Hurricanes win is an open question. Certainly, they have given themselves a better chance to be good than they did last season. There are fewer uncertainties, or at the least their uncertainties have higher upside potential.
It's too much to ask of fans to believe, without evidence, that the time has arrived. There have been too many false dawns. Fans believe, though, in Brind'Amour. He has earned their trust and respect, to the point where some didn't want him named coach because they couldn't stand even the possibility of his legacy being tarnished.
If you can't sell the future, if you can't sell the present, you can at least sell the legend and everything for which he stands.
"I get it," Brind'Amour said. "We're looking around for something, so it's easy to say. But we're going to morph into, we've got some great players in here and people are going to take notice. That's kind of what I'm hoping."
HAMMER IT HOME EVERY DAY'
There have been echoes, in these recent weeks, of the early fall of 2005, when the Hurricanes tore through the preseason and carried that momentum all the way into January. Making any kind of comparison to that season is, rhetorically, fraught with peril for obvious reasons. And this is not one, in any way. But Laviolette, in his first full season with a substantially reworked roster, made absolutely certain that his new players knew what would be expected of them. And Brind'Amour, in similar circumstances, did the same.
Messages were sent along the way, subtle but impossible not to perceive among those sensitive to the rhythms of training camp. Aleksi Saarela, a slick-shooting favorite of the previous regime, was cut early after failing to improve his all-around game. In a relative sense, so was Jake Bean, a former first-round pick who faced a stacked lineup on defense but failed to press the issue in any way. Both, in years past, would likely have been kept around based on reputation if nothing else.
Meanwhile, Warren Foegele went from the fringes of the roster to an opening-night spot with Williams and Jordan Staal. Andrei Svechnikov, despite being the No. 2 overall pick, will start the season on what is essentially the fourth line, even if that's only transitional housing. Valentin Zykov, despite having an uncertain role five-on-five, made a successful argument to stick as a power-play specialist.
This was a training camp, and preseason, in Brind'Amour's image. The challenge now is extending that into the regular season, when there will be no half-speed opponents, no veterans rounding their games into shape in due time, no training wheels.
The challenge will be to take a few good weeks and make it a few good months, to take what the Hurricanes did in the short term and extend it into the long term, to take this mood and make it an identity.
"That's going to be a work in progress, but we're going to hammer it home until they can't think about anything but what we're trying to get across," Brind'Amour said. "I think they took some good strides in the six preseason games as a whole in trying to identify what we want to do. We've just got to hammer it home every day."
The success or failure of that endeavor is up to the Hurricanes, but they won't be the ones to judge. When they see the opposition's No. 1 goalie, when they get the opposition's best effort, when teams match their effort instead of the other way around, only then will they know they have truly adopted not only their coach's words but his attitude.
That may take a while. No one in the NHL takes this team seriously at the moment. Insiders mock the hands-on owner, fantasy experts scoff at the potential point-producers and there isn't a soul on the planet who knows what to expect from the goaltending, including either goalie.
The Hurricanes think they have a chance to do something special, or at the least take a genuine step forward after so many years mired in place. As much as is possible, the preseason has cultivated belief that they can, for what that's worth, which isn't much.
They believe they have a coach who will lead them where they need to go, even if no one else does.
"Let the people do the talking for themselves," Williams said. "Let's just go out and play. And earn it."
For now, they'll keep that belief to themselves, under their hats.
Sports columnist Luke DeCock: 919-829-8947, ldecock@newsobserver.com, @LukeDeCock
Related:
Brind'Amour prefers motivation over analytics-