J. Todd Scott's debut, The Far Empty, tells about a deputy pulled into the cold emotional war of Stanford "Judge" Ross, a crooked Texas sheriff and his son, Caleb, who believes he murdered his mother. It is an uncompromising look at masculinity, western society, and emotion. Mr. Scott was kind enough to talk about the novel, its Texas setting, and writing. He'll be at BookPeople to speak and sign his debut, joined by fellow novelist of the Southwest C.J. Howell, this Friday, June 10th, at 7 PM.
MysteryPeople Scott: I was telling some retired Texas lawmen about The Far Empty and they recalled events it reminded them of. Is it based on an actual situation?
J. Todd Scott: The story of former Presidio County Sheriff Rick Thompson, who was originally given a life sentence for his role in smuggling more than a ton of cocaine from the small Mexican village of San Antonio del Bravo to a ranch outside of Alpine, Texas (and that was ultimately discovered in a seized horse trailer in Marfa) is well-known in the region, and is definitely echoed in The Far Empty. Sheriff Thompson was an iconic lawman recognized as an anti-drug crusader and a pillar of his community, and claimed at the time of his arrest that he was actually conducting his own reverse undercover sting operation to catch drug traffickers in Dallas! While there are some conscious similarities, my Sheriff Stanford Ross was not specifically based on Thompson, whose life sentence was cut to thirty years in January of this year.
MPS: You were a DEA agent working in South Texas. What did you want to get across to the reader about the area?
JTS: I came to Texas (and El Paso) sight unseen; I knew nothing about the area, but quickly fell in love with its rich cultural heritage, the history, and the austere beauty. It's a unique place, and even now still has a certain "wild west" feel unlike any other place I've lived. I wanted the reader to experience that if possible.
MPS: Why did you give Caleb the only first person voice in the book?
JTS: I definitely had Caleb's voice in my head from the beginning. In fact, I had the first line: My father has killed three men…written down for almost a year before I wrote the book itself. Because of that, it was only natural to keep that voice throughout the narrative; plus, it gave Caleb's character a certain amount of intimacy for the reader. One question throughout the book is how much of what Caleb remembers – and is writing down in his diaries, which is the actual narrative mechanism for his first person voice – is actually true? There's the view everyone else in Murfee has about his father and his mother, and then there are his own, perhaps very shaky memories.
MPS: You use a lot of Texas legends and history, particularly in the beginning. What was the particular use of that tool for you?
JTS: I wanted this to be a "Texas" book, because I very much wanted Stanford Ross to be a "Texas" character. He sees himself in almost this mythic way, carrying on the traditions of all the hard men and lawmen that came before him: men who "tamed" the West, one bullet at a time. Also, the entire region is steeped in fascinating history, and I couldn't imagine writing a book set there and not draw on that.
MPS: The Far Empty has drawn comparisons to Cormac McCarthy, Dennis Lehane, and Jim Thompson. As a first time author, did you draw from any influences or just draw from your own experience?
JTS: Well, those are wonderful but undeserving comparisons. They are great writers, and in many ways, I'm just a guy who wrote a book, and am still learning how to do it. As a first time author (and this is only the second full novel I've ever completed), you're desperately searching for your own voice, but I'd be lying if I said those writers weren't influences. As a reader I'm a huge fan of all three of them, and my "Judge" Ross was meant to consciously recall McCarthy's character in Blood Meridian.
MPS: Do you have another book in the works?
JTS: I actually have three books coming down the pipe. There are already two more "Big Bend" books scheduled, tentatively titled High White Sun and This Side of Night. They're due out next year and the year after, and they continue the stories of some (but not all) of the characters in The Far Empty, and introduce some new ones as well. After those, I have a completely new stand-alone novel for Putnam, titled Thirteen Days. It's another Texas crime/suspense novel set in and around Midland/Odessa.
J. Todd Scott will be speaking and signing his debut this upcoming Friday, June 10th, at 7 PM. He'll be joined by C. J. Howell, speaking and signing his new book, Hundred Mile View. You can find copies of The Far Empty on our shelves and via bookpeople.com.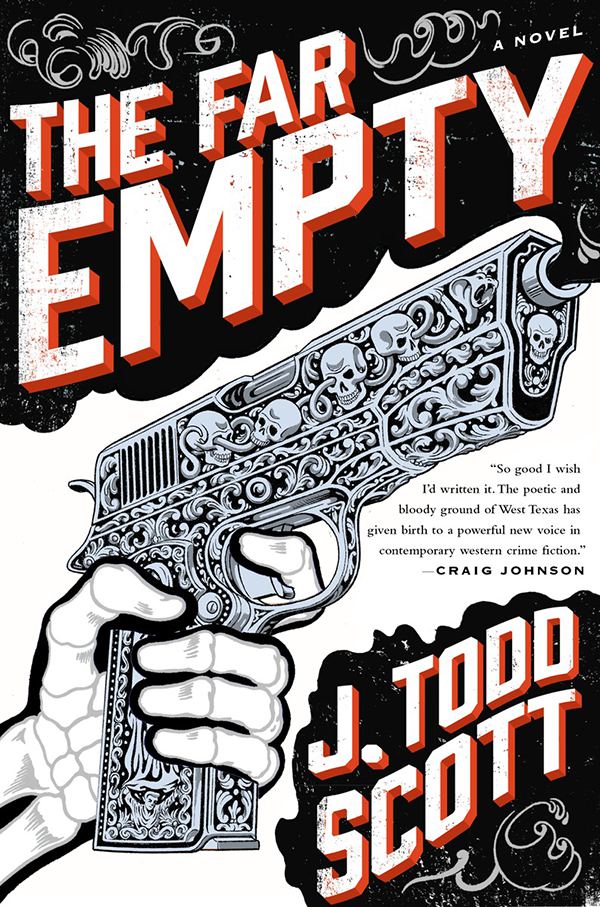 MysteryPeople Pick of the Month: THE FAR EMPTY by J Todd Scott
Review by Crime Fiction Coordinator Scott Montgomery
June 1, 2016
The Southwest has become a popular backdrop for crime fiction of late. It operates in both the parallel worlds of modern drug trafficking and historic legend of the old west. Authors utilize a brutal landscape and its history in combination with the brutality of humanity. J Todd Scott, a former DEA agent who worked in that area, uses it to full effect in his debut novel,
The Far Empty.
Each chapter follows the point of view of one of the citizens of of the fictional Murfee, Texas or one of their neighbors on the other side of the border. The first one is if Caleb Ross, an awkward teenager and the only person whose side gets told in first person. He discusses his life and the disappearance of his mother. Caleb believes it was murder and knows who the killer is, his father Stanford "Judge" Ross, Murfee's mythic sheriff.
New deputy Chris Cherry, a young man who returns home after his football career and marriage have been waylaid by an injury, discovers a decomposed, flex-cuffed body. Caleb is convinced it is his mother. Soon, they are in a deadly dance with the judge, pulling a school teacher, drug runners, and others into their tempest of violence.
Scott's Murfee appears to be a stand in for Marfa, Texas, a town that shares some of its sordid history and mysterious light formations. He uses the state's legends, history, and its legacy of bloodshed. He examines violence by what parks it and creates a circle of it, avoiding literary distance by tying violence to his characters and making it utterly human.
The Far Empty is is a look at a land and how its history shapes those who live on it today. It's a place where even the innocent become corrupted. The big land is empty of many things, especially mercy.