The opulent harmonies of these five suburban Californians in hits like Aquarius made every song they covered pure joy
Caroline Sullivan
https://www.theguardian.com/music/
21 June 2016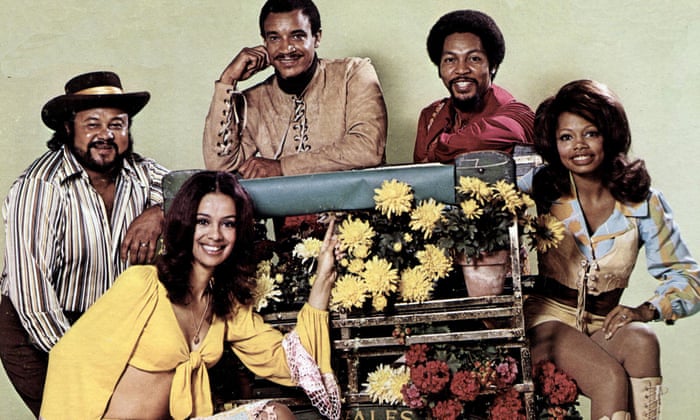 The 5th Dimension circa 1970, (left to right) Ron Townson, Marilyn McCoo, Lamonte McLemore, Billy Davis Jr and Florence LaRue. (Photo by GAB Archive/Redferns) Photograph: GAB Archive/Redferns
My parents owned only two albums that weren't folk or opera. One was the original Broadway cast recording of
the musical Hair
, which was famous for a scene in which the entire lot were naked; the other was The Age of Aquarius by the 5th Dimension. Both arrived in their record collection around 1975, several years after they had been released (in 1968 and 1969, respectively). My mother bought The Age of Aquarius because she'd been beguiled by the 5th Dimension's run of gilded pop hits, and was then spurred to investigate Hair because The Age of Aquarius's title track was a song from the musical.
My formative albums, then: a Broadway show whose selling point was nudity, and cocktail soul by a vocal group whose smoothness got them a rejection from Motown. Of the two, the 5th Dimension moved me more: their tremendous harmonies were uplifting and elegant, and the two female singers, Florence LaRue and Marilyn McCoo, approachably glamorous. (I barely noticed male members Ron Townson, Billy Davis Jr and Lamonte McLemore; they were the worker bees, while McCoo and LaRue were the queens.) McCoo's soprano and LaRue's alto were a rich mix – breezy or imploring
as the song demanded
, or a tangy complement to the men's baritones. It was, McCoo said later, "a very mellow, overdubbed kind of sound", while McLemore's term for it was "champagne soul". Unexpectedly, Nick Drake was a fan.
In keeping with the zodiac theme, the group's star signs were printed
inside The Age of Aquarius's gatefold sleeve
, revealing that LaRue and Townson were actual Aquarians. My admiration wasn't affected by the fact that portly Townson, clearly the odd one out, was holding a pipe in one picture – not some hippie bong thing, but the kind smoked by suburban dads. Their music and look, Townson notwithstanding, were pure joy.
For me, loving them was the right thing to do, and not just because of their talent. They also made me aware of Jimmy Webb, Laura Nyro and Ashford & Simpson, who were young unknowns when the 5th Dimension covered their songs. Two canonical examples of 60s pop – Webb's Up, Up and Away and Nyro's
Stoned Soul Picnic
– got their first airing as Dimension singles, and
their version of Nyro's Wedding Bell Blues
outclasses the songwriter's own recording of it. Their opulent harmonies and arrangements made every song they covered definitively theirs, the track Aquarius being a prime example. The
Broadway cast original
had a dash of high-school musical, but
the Dimension version
was a thing of celestial beauty, with a distinctly trippy undercurrent.
There were so many more wonders before the original lineup split in 1975, with McCoo and Davis departing to work as a duo. Though not songwriters themselves, they had access to the best: Bacharach and David's One Less Bell to Answer was a majestic hurricane of heartbreak, while a reworking of Dave Mason's Feelin' Alright embodied drivetime Californian exuberance. They even gave Elton John's Border Song some sophisticated welly.
The band were anomalies: a black group aimed directly at the "mainstream" (which then meant white audiences); five Californians whose sound reflected Los Angeles's suburban optimism rather than the disquiet of its inner-city districts. Their first big hit, 1967's Up, Up and Away, conveyed such boundless anti-gravitational delight that it was adapted by Trans World Airlines into
the most memorable of all airline jingles
. (TWA recreated the vocals with anonymous session singers,
prompting the group to sue
on the basis that their recording had been imitated. TWA won.)
It's obvious why Motown decided they wouldn't fit in; sonically, they were closer to the Mamas & the Papas than to anything on the Detroit label. And the Motown slogan, "the sound of young America", excluded the over-30s who comprised thei band's core following. McLemore later contended that his group "bridged the gap" between young and old, and he was right, inasmuch as they appealed to children as well as parents, but the one bunch they never reeled in was the one between childhood and married suburban adulthood. Even with its subtle flower-power underpinnings, their escapist pop was too lightweight for teenagers and twentysomethings, and their sporadic attempts to engage with current events, such as
their cover of Sam Cooke's A Change Is Gonna Come
, seemed tokenistic.
Playing a show at the White House for president Richard Nixon in 1970 only cemented the idea that they were part of the establishment, though LaRue – the only original member who still tours under the 5th Dimension name – has said they were no fans of Nixon. "It was an honour to perform for the president of the United States, [but he] wasn't necessarily the president of our choice." No matter; they couldn't undo what we would now call the reputational damage, despite the fact that one of the songs they played at the White House was The Declaration, a powerful folk-pop appeal for racial unity.
They had formed in 1965 as the Versatiles, a name so dated that their label made them change it as soon as they signed, so they were out of step with the counterculture from the beginning. The Vietnam war and racial inequity were beginning to preoccupy rock by the time they became popular, but the 5th Dimension gravitated to love songs and sunny celebration. When they did address racial politics, as with the Cooke cover, fans responded by sending it to No 60 in the US pop chart. Tellingly, it didn't make the slightest impact in the R&B chart. Few of their singles did, not even The Declaration. It can be explained not just by the Nixon episode, but by the perception that they "sang white", though this gets short shrift from McCoo. "When a black artist comes along, we're always expected to sound like we came out of the church, I feel it also indicates the lack of knowledge that these critics have of the varied backgrounds of black Americans. That was one of the things we were constantly fighting."
Yet the reason they eventually broke up, after six Grammys and 20 US Top 40 singles (the British were less susceptible to their charms, with only Aquarius and Wedding Bell Blues making any impression), was that in the mid-70s, pop slowly shape-shifted. Rhythm became pre-eminent, overshadowing the Dimension's strong suit, melody and harmonies. By the time my mother brought home The Age of Aquarius, the 5th Dimension were well past their commercial peak. But what a glorious peak it was.