By Shaun Powell
http://www.sportsonearth.com/
June 3, 2014
Photo: AP
The NBA's most talked-about superstar-coach relationship, before this one, was Magic Johnson and Paul Westhead. That one didn't last 17 blissful years, unlike this one. That one was closer to 17 months, and felt like 17 minutes.
For those too young to know, a quick history lesson here: Magic thought his coach, who led the Lakers to a title in Magic's rookie year of 1979-80, had a system that quickly became as outdated as a pay phone. Magic aired his anger in public, issued a "him-or-me" ultimatum, and "me" won. It went over badly in the sports world and magnified the delicate connection between "boss" and "employee," especially when said employee is essentially the franchise and therefore the real boss.
In the years since, the graveyard filled up with the corpses of fallen coach-superstar combos, and these unravelings became less shocking each time they happened. Really: People began yawning. But this one? Tim Duncan and Gregg Popovich? Going strong since 1997? This one is shocking, if only from a duration standpoint, because we'll probably never see another like it in our lifetime.
Popovich is a softy (on the inside) and a crusty (on the outside) ex-military guy who's the best in his profession and yet isn't afraid or threatened by taking suggestions, not only from Duncan, but the 12
th
man. Duncan is the island-breezy, laid-back player who, given his status as perhaps the finest power forward of all time, could push his weight on Popovich. Instead, whenever Popovich raises his voice to Duncan in full view of the team and a packed arena, Duncan takes it like a 12
th
man.
Popovich is flexible and Duncan is coachable. That's why this relationship works and why the Spurs, once again, are in position to win a championship. It's an amazing study in discipline, respect, old-school values and a singular purpose: winning. Egos are left outside the door like a wet umbrella.
"Both Pop and Tim are unique in that they have a lot of love for each other, really," said R.C. Buford, the Spurs' longtime general manager, recently. "It's not just professional, as you see in most other places. It's deeper than that."
Popovich once said the reason the Spurs are the most respected organization in sports is because it "begins with Tim," and that's a nod to Duncan's refreshing attitude, where all he does care about is winning. Example: Throughout his 14-time All-Star and two-time MVP career, Duncan has never demanded to be the highest-paid player in the NBA, always mindful that the medium-market Spurs needed cap space to add and keep good players and remain in the title mix year after year. He turned down three chances to leave San Antonio as a free agent. No player, either in the Hall of Fame or headed there, has ever been more economically-friendly. Notice, for instance, how Kobe Bryant didn't exactly refuse his two-year, $48 million extension from the rebuilding Lakers.
(Here's a fun fact: Duncan has had only two coaches in 20 years of organized ball beyond high school: Dave Odom at Wake Forest and Popovich.)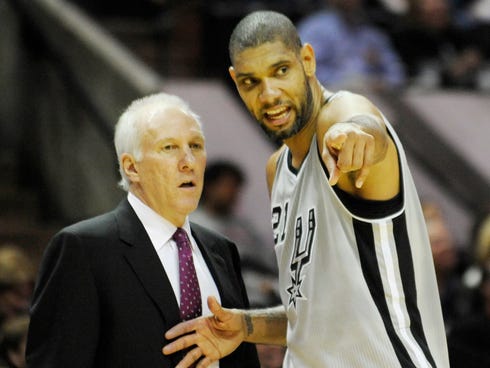 Spurs coach Gregg Popovich and star Tim Duncan. / Brendan Maloney, USA TODAY Sports
When Duncan's teammates observe him and how he conducts himself with Popovich, everyone falls in line. There's really no choice. Duncan sets the agenda in that regard. With very few exceptions -- Stephen Jackson comes to mind -- the players have allowed Popovich to be the voice of authority for over a decade.
Maybe it helps that Duncan is the product of an unconventional basketball background and therefore was groomed to be this way. Born and raised in the Virgin Islands, he wasn't poisoned by the mainland youth basketball system and its emphasis on AAU and individual play. His parents didn't have dollar signs in their eyes when Duncan, though raw and primarily a soccer player at first, began to grow and show promise in basketball. He wasn't instantly surrounded by layers of hangers-on with their hands out and treating him like an ATM machine rather than a teenager. By the time Duncan went to Wake Forest and gradually became the best player in the country, he was still unspoiled.
"Every coach in the NBA would love to have a player like Tim," Buford said.
Usually, the NBA coach's fate is determined by the whims of the superstar, and often in these cases, the coach will simply allow the superstar to roam unchecked just to save or keep his job. Meanwhile, the rest of the locker room, sensing a double standard, begins to boil. Whether that exists in San Antonio behind closed doors between the two of them is unclear, but what is evident, at least during games, is Popovich will get in Duncan's grill should the situation call for it.
But that's rare. Duncan doesn't warrant many lectures. The mutual respect factor between them is high, and so is the bottom line; 15 years of 50-plus wins and four titles does wonders for a lasting relationship.
The most obvious example of a Duncan-Popovich duo in the past was Bill Russell and Red Auerbach and the Celtic dynasty that followed. Auerbach was not only respected by Russell as a coach, but also as a man; Auerbach was an ally when Russell fought racial bias in Boston. Another was Michael Jordan and Phil Jackson, although they weren't together nearly as long, and unlike Duncan, Jordan had other coaches in the NBA.
Who else? Bill Belichick and Tom Brady? Sure, they come to mind; no current NFL coach and quarterback have enjoyed their longevity and Super Bowl success. Before Belichick-Brady was Vince Lombardi and Bart Starr, but that was so long ago, in a different era and age, before big money and TV gave superstars an inflated sense of self-worth, and quick-triggered owners became the norm and suddenly didn't side with coaches very often whenever there was a player conflict.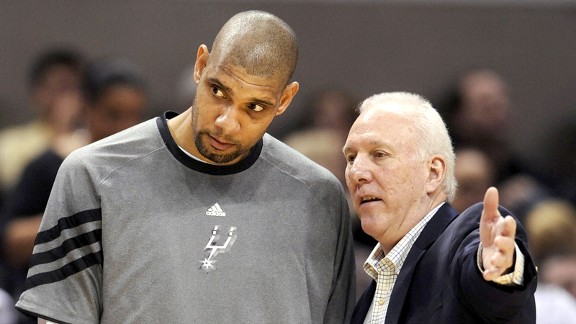 Gregg Popovich and Tim Duncan AP Photo/Bahram Mark Sobhani
Once superstar players began making six times the salaries of coaches, and became box office draws, and even developed close relationships with owners, a clear division was formed and authority, if it existed in the first place, was compromised. Stan Van Gundy found out the hard way in Orlando with Dwight Howard and it was a battle Van Gundy couldn't win, not with Howard on the cusp of free agency and suddenly holding the Magic hostage. Wisely, after he was fired, Van Gundy held out for more clout in his next job, and now he's the coach and front office shot-caller in Detroit.
Not many teams, however, are offering that kind of juice to coaches, and that causes constant turnover in the ranks. As Jeff Van Gundy famously said: "If they don't get you on results, they'll get you on relationships."
In Game 5 of the Western Conference finals, when the Spurs were being blown off the floor by the Thunder, came a telling moment. As the Spurs, in a pique of frustration, called timeout, Duncan approached the bench clearly annoyed and began jawing with Popovich. Actually, the exchange was one-sided, Duncan doing the jawing. It was brief, maybe two or three seconds tops, but it was quite a sight because of the coach and player involved.
Afterward, Popovich was asked about it, and his response went as you might expect:
"I don't know what you're talking about. What do you mean, miscommunication?"
Then, when the question was asked again:
"I don't have any idea what you're talking about."
Translation: It's a non-issue, whatever it was. And that brief and insignificant disagreement didn't penetrate or even scratch the Duncan-Popovich dynamic, which was solid 16 years ago and by all accounts just as solid now.
"They'll be linked together in history," said Buford. "For good reason."
They became acquainted in 1997, won their first of four titles in 1999 and now are teaming up, in their own unique way, to grab another. We should enjoy them and marvel at them while we can and realize this particular coach-superstar combo is a true dinosaur that won't be repeated anytime soon, if ever.
For that to happen, a coach must be in the same place for over a decade-and-a-half, and his best player must last that long in the NBA. Which means Donald Sterling will probably get another NBA franchise first.