John Hayward
http://www.humanevents.com/
June 3, 2014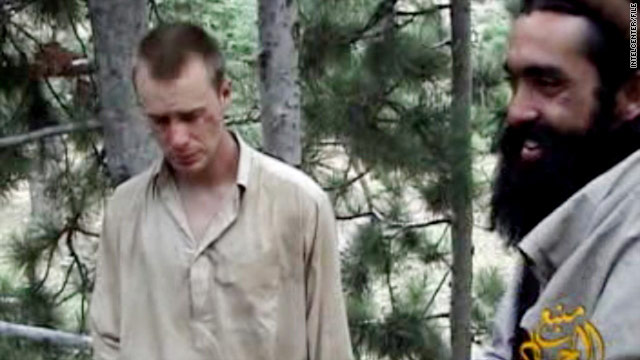 "Any of us would have died for him while he was with us, and then for him to just leave us like that, it was a very big betrayal," said former Sgt. Josh Korder, who CNN notes "has the names of three soldiers who died while searching for Bergdahl tattooed on his back."
An image of six soldiers who died searching for Bergdahl has been spreading across the Internet like wildfire:
As I said earlier, the Obamanoids clearly assumed the entire U.S. military apparatus would roll over for them and help sell their preferred political narrative. They didn't bother with a lot of hard thinking about how difficult that narrative might be to sustain.
The Pentagon on several occasions had ground-level intelligence on where ArmySgt. Bowe Bergdahl was being held captive at various times — down to how many gunmen were guarding him — but special operations commanders repeatedly shelved rescue missions because they didn't want to risk casualties for a man they believed to be a "deserter," sources familiar with the mission plans said.

Commanders on the ground debated whether to pull the trigger on a rescue several times in recent years, according to one of the sources, a former high-level intelligence official in Afghanistan, who said the conclusion each time was that the prospect of losing highly trained troops was too high a price to pay for rescuing a soldier who walked away from his unit before being captured by the enemy.
In more recent times, special operations commanders apparently knew where Bergdahl was being held, but did not seek approval for a rescue mission because they knew a deal to obtain his release was under way. They wanted a much better deal than the ludicrous arrangement Obama struck, which special-ops officers were reportedly "appalled" by:
The aide said military officials in Afghanistan spent recent months pushing for a stronger deal than was ultimately struck, but were "superseded" by the White House and State Department. The aide would not comment on what the parameters of a "stronger" deal may have looked like, beyond saying they would have involved the Pakistani government.

The former intelligence official who spoke with The Times corroborated that assertion but declined to offer further details, saying only that the deal turned out the way it did because "the administration wanted to close the door on this no matter what the price was."

Separately, the former official said, "Military commanders were loath to risk their people to save this guy. They were loath to pick him up and because of that hesitancy, we wind up trading five Taliban guys for him.

"The mentality was, 'We're not going to lose more of our own guys on this," the former official said.
He buried himself in books about Zen meditation, the writings of Aristotle and a book called Three Cups Of Tea, about a crusade to educate girls in Afghanistan. He told a friend that if their first tour of duty in Afghanistan was 'lame', he was going to 'walk off into the mountains of Pakistan'.

Members of his unit, part of the 501st Parachute Infantry Regiment, say his manner became odder when they reached eastern Afghanistan's remote Paktika region. 'He spent more time with the Afghans than he did with his platoon,' said a comrade.

He told some of them he wanted to walk to India. His father admitted to military investigators that his son became 'psychologically isolated'.

In letters and emails home, Bergdahl made his disillusionment clear. 'I feel ashamed to even be American,' he wrote. 'The horror of the self-righteous arrogance that they thrive in. It is all revolting.'

In an uncanny echo of [the television series] Homeland, Bergdahl was particularly affected by seeing an Afghan child fatally run over by a U.S. armoured vehicle.

'We don't even care when we hear each other talk about running their children down in the dirt streets with our armoured trucks,' he complained in a final email sent three days before he disappeared. 'I am sorry for everything. The horror that is America is disgusting.'
The Afghan Taliban are celebrating the release of their five top commanders — who were swapped in exchange for American Sgt. Bowe Bergdahl after being held in Guantanamo Bay for 12 years — serving their guests with sweets and goats cooked in rice.

"This is a historic moment for us. Today our enemy (for the) first time officially recognized our status. I can't explain how our people are happy and excited over this unbelievable achievement. Today we reached our destination," a senior member of the Afghan Taliban told NBC News exclusively from a hideout in Afghanistan.

[...] He said the release of the top five commanders was great news that spread like wildfire among their fighters.

"Our leader Mullah Mohammad Omar, after a long time, heard a very good news. He is so happy and anxiously waiting to see his senior commanders," the Taliban commander said.

Omar on Sunday released a rare statement calling the prisoner exchange a "great victory" for the Taliban.

According to the commander who spoke to NBC News, the release of Mulla Fazal Akhund, Noorullah Noori, Abdul Haq Waseeq, Khairullah Khairkhwa and Mohammad Nabi will boost the morale of their fighters.

"Once we confirmed the arrival of our five heroes back in Qatar, celebrations started everywhere in Afghanistan and the neighboring Pakistan. It's nonstop. The guests were first served with sweets and green tea but now there are official celebrations on behalf of the Islamic Emirate of Afghanistan (official name for the Afghan Taliban)," he said.
Back in the United States, hearings on the newest Obama scandal already been announced by the House Armed Services Committee, and there is word the Senate may follow suit. It is good to have any missing American home… but it matters if the President's actions in securing his release were legal, what price was paid for him, and how he became a captive in the first place. Evidently Team Obama thought all of those considerations were either irrelevant, or bait for the political bear trap they were trying to set for Republicans. If one of Obama's objectives was to knock the VA scandal out of the news… mission accomplished, I guess.
"Yes, I do believe he deserted, without a doubt in my mind," Cody Full told Megyn Kelly Monday. "He did not serve the United States with honor. We all took an oath — he violated his oath when he deserted us and put other Americans in jeopardy."

Sources who had debriefed two former members of Bergdahl's unit told Fox News Bergdahl left behind a note the night he left base in which he expressed disillusionment with the Army and being an American and suggested that he wanted to renounce his American citizenship and go find the Taliban. U.S. military officials would not confirm the existence of the letter, but if it does exist, it would likely be part of the original file on the investigation into Bergdahl's disappearance.

Some of Bergdahl's activities prior to his disappearance, including reportedly mailing his gear home, indicated premeditation, according to Full, a 25-year-old former infantryman now living in Houston. It bothers them that a soldier they believe betrayed his comrades, possibly leading to their deaths in subsequent rescue efforts, could be seen as a hero.

"I just don't want to see him hailed as a hero and I just want him to face the consequences of his own actions and possibly face court-martial for desertion," Gerald Sutton, a 31-year-old Michigan college student who left the military in 2012 after serving with Bergdahl in Afghanistan, told Kelly.