http://www.washingtonpost.com/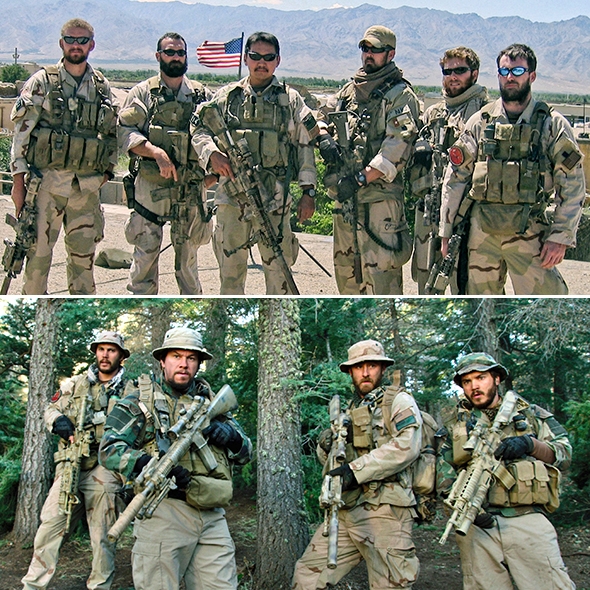 Above: (L to R) Navy SEALs Matthew G. Axelson, Daniel R. Healy, James Suh, Marcus Luttrell, Eric S. Patton, and Michael P. Murphy in Afghanistan. With the exception of Luttrell, all were killed June 28, 2005, by enemy forces while supporting Operation Red Wings. Below: (L to R) Michael Murphy (Taylor Kitsch), Marcus Luttrell (Mark Wahlberg), Matt "Axe" Axelson (Ben Foster) and Danny Dietz (Emile Hirsch) in
Lone Survivor
.
While watching the utterly gripping movie "
Lone Survivor
" recently, I comforted myself by noting that the four Navy SEALs engaged in a desperate firefight with the Afghan Taliban were all volunteers. They asked for this, I told myself. They were not draftees yanked out of civilian life and compelled to fight a war they could neither understand nor win. They had asked for this, I insisted, but I knew all the time that this was a lie. They had volunteered, but certainly not to die and certainly for no purpose.
Okay, I know this is only a movie. But it is faithful to
the book of the same name
, which is faithful to the 2005 mission called Operation Red Wing that was intended to take out a Taliban commander. The title "
Lone
Survivor" pretty much says what happened, but you owe it to the SEALs and to their families to see the movie. The ending is not in doubt, but the reason for their sacrifice undoubtedly is. Afghanistan is a war searching for a reason.
All through the movie, I kept asking myself, Why? What are these men fighting for? Once, I knew the answer. After Sept. 11, 2001, I wanted to wipe out al-Qaeda and kill its Afghan hosts, the Taliban. Even before the terrorist attack, reports of the Taliban's treatment of women — stonings, public executions in the soccer stadium, etc. — and beheadings of men convinced me that it simply had it coming: Send in the Marines.
Well, the war is not Obama's. It is George W. Bush's — one he interrupted to mindlessly chase after Saddam Hussein. But Obama embraced the Afghanistan mission and then, apparently, never knew what to do with it. I don't blame him. Afghanistan is an arid Vietnam, a quagmire presided over by the petulant and unpredictable Hamid Karzai. For Obama, Gates wrote, "it's all about getting out."
In the movie theater, I watched two films at once — "Lone Survivor" on the screen and Vietnam in my head. On the screen, as in reality, men fought and died — and, as with Vietnam, I no longer knew why. One man survived the battle. The rest were lost — as is the reason for the war itself.