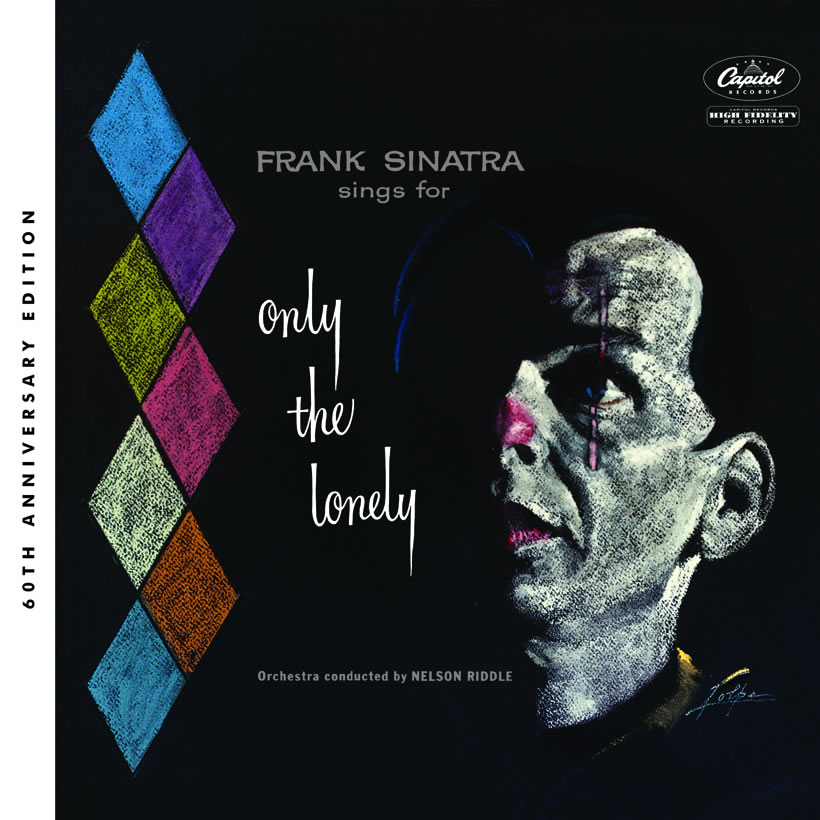 Frank Sinatra might not be the greatest singer of popular music. For instance, Ella Fitzgerald ranks as the superior vocalist, at least in terms of technical skills. There are others, too, of course, who have mastered the art of tone, diction, phrasing, intonation and all that jazz. No one yet, though, in the history of sound recording, has displayed such a preternatural ability to inhabit a lyric like Sinatra.
When Sinatra sings about jet-setting it's as if you're right up there with him, with some exotic booze and a beautiful woman under your arm, too! Come dance with me? Yes, sir! I won't even wait until my husband turns his head. Even more powerful, though, than the sounds of Sinatra flying high are the ones created from deep, down, low; when he's where the lovesick go at last call.
Sinatra recorded several masterful albums of sad ballads but none are more intimate than 1958′s "Frank Sinatra Sings for Only the Lonely," with orchestration by Nelson Riddle. Now, it has been newly mixed in stereo for a recently released expanded 60th anniversary edition that can be purchased as a deluxe 2-CD package, in 180-gram 2-LP vinyl and 1-CD configurations, and in two digital album versions.
Listen to the freshly minted vinyl version, after dark, the only proper time to listen to such an album. All of the songs are terrific and then there's Sinatra's all-time greatest performance, the final of a dozen delights, "One for My Baby." Accompanied only by piano for the majority of the song, Sinatra is that guy so many people have been nearing last call, sad and lonesome with no one to talk to but, yeah, the barkeep. It's pitiful, unless Sinatra is singing.
"Only the Lonely" contains the definitive version of "One for My Baby" as well as "Angel Eyes" and "Guess I'll Hang My Tears Out to Dry," three songs that would stay with Sinatra for the rest of his career, and will stay with his multitude of fans forever. Yes, these songs exemplify Sinatra's ability to portray emotion better than any vocalist to ever get behind a microphone.
4. It's A Lonesome Old Town
8. Guess I'll Hang My Tears Out To Dry
Sixty Years After 'Frank Sinatra Sings for O

nly the Lonely'
Back in 1958, Frank Sinatra made what many fans and critics consider his greatest album,
Frank Sinatra Sings for Only the Lonely
. The record went to number one and stayed on the charts for two years. The disc contained some of what are now considered Sinatra's signature songs, including Harold Arlen/Johnny Mercer's
"Blues in the Night"
and "One for My Baby (And One More for the Road)". Sinatra and conductor Nelson Riddle purposely selected and arranged the dozen tracks because of their melancholy themes.
The arrangements allowed for plenty of silence and space between the instrumentation and the vocals. In addition, Riddle layered the different musical elements in such a way that they seemed to comment on each other in a conversation where one could understand each line. He employed a large orchestra but managed to make it sound like an intimate combo in a small room.
So for example, when Sinatra sings Ann Ronell's "Willow Weep for Me", one hears the sorrow in his voice and the commiserating strings as well as the horns mocking his melancholy. This oversimplifies because Sinatra and company offer an ever-changing emotional dynamic as the singer goes through a wide range of feelings. There are more versions of the color blue than just one, and Sinatra wrings out each of the audio equivalents without getting maudlin or sappy. The album showcases Sinatra's marvelous ability to express the complexity of sadness. The lyrics may be gloomy, but the singer always maintains a cool dignified presence.
Sinatra and Riddle also chose great material from what we now call the Great American Songbook. Their versions of Johnny Burke/Bob Haggart's "What's New", Sammy Cahn/Jule Styne's "Guess I'll Hang My Tears Out to Dry", and Earl Brent/Matt Dennis'"Angel Eyes" have become standards by which other vocalists' takes are measured. It's impossible to overstate just how terrifically Sinatra sings them.
And even the lesser-known cuts, such as Charles Kisco/Harry Tobias' "It's a Lonesome Old Town", Sinatra and Riddle elevate the material through their heartfelt interpretations. The title song reminds us that this album is for "Only the Lonely". Sammy Cahn/James Van Heusen's composition allows Sinatra to recall the good times during a low period. He sings forcefully. No one may care about the narrator, but he does not pity himself. He's triumphant in his despair.
All of the aforementioned elements add up to the highest accolades one can award a record—a ten-star review. This is old news as Only the Lonely has been celebrated and available for 60 years. What's new is Capitol Records has managed to improve the masterpiece! It is now available as a two-CD deluxe package (also available in a 180-g two-LP vinyl edition) that features the album's remastered original 1958 mono mix with a new 2018 stereo mix. In the liner notes, recording engineer Larry Walsh explains that the original was recorded in mono and stereo with two microphones suspended high over the studio orchestra. Sinatra's voice was recorded onto a third track. While there have been previous stereo versions available as mono albums went by the wayside, they were produced with only some instruments coming out of each speaker to give a false separation. Walsh's remixing has added a richness to the listening experience.
The double CD also contains four unreleased studio tracks, including Sinatra's attempt to record Billy Strayhorn's "Lush Life". Sinatra begins credibly enough but gets bogged down by the unusual song structure and gives up in frustration before finishing. This reveals while the Sinatra may sound natural on the rest of the disc, his artistic genius was in making it seem that way. The relaxed vibe was both a conscious and intuitive creation. This latest release of Frank Sinatra Sings for Only the Lonely only reaffirms Sinatra's reputation as the most majestic vocalist of his time.