Eli Roth goes for political theater and turns out a more honest movie than

Three Billboards

.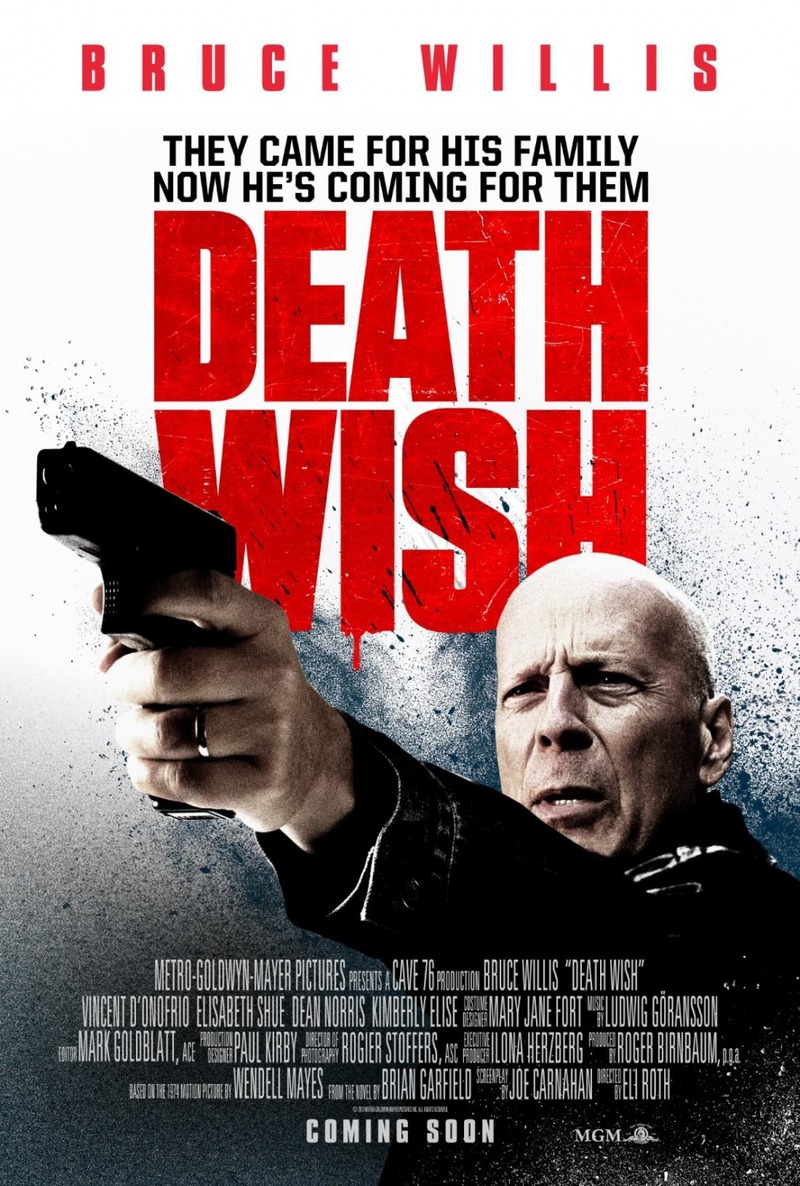 Eli Roth seems to be remaking genre movies as political theater. His new film, Death Wish, follows his two previous, wonderfully provocative films. Knock Knock anticipated the current bastardly #NeverAgain trend while The Green Inferno parodied the Occupy movement. In Death Wish, Roth razzes the gun-control movement. He confronts the political status quo (what other mainstream filmmakers indulge as civil-rights issues) with his own refreshing impudence.
Roth rethinks the story of the 1974 Charles Bronson–Michael Winner vigilante hit Death Wish. The bad reviews Roth has received indicate that we are in a period when reviewers are uncomfortable with analogies to their own political posturing. The vigilante option — taken by upper-middle-class Chicago surgeon Paul Kersey (Bruce Willis) after a home invasion devastates his family — seems to offend critics as if they themselves were accused of harboring not-nice thoughts.
Kersey's ideological quandary (his profession is saving lives while living in an environment of s
ocial chaos and rampant carnage) is presented in intimately personal terms. It's what used to be called barroom philosophy: What would you do? That same question made Liam Neeson's Taken franchise a popular Millennial hit, arousing primal reflexes worldwide. But by going back to a "classic" from the American Renaissance of the'70s — when controversy used to draw across-the-aisle audiences — Roth digs beneath simple impulses. The opening sequence, in which Kersey saves a cop-killer's life against another cop's protestation, turns the film's title into a moral question.
Neil Jordan's The Brave One (2007) remade Death Wish with poetic sensitivity, but Roth is hyper-aware of the virtue-signaling that trivializes today's pop culture in movies such as Three Billboards and TV shows like The Good Fight. Subverting those pious assumptions is part of his challenge. Having made his name with the alarmingly effective Hostel movies, Roth doesn't go for the gut the way Taken or the Bronson film did; the narrative mechanism here seems almost matter-of-fact. (Torture-porn Eli surfaces only in a couple of Kersey's later, wickedly funny revenge-killing scenarios.) But take note of Roth's culture-shock stratagem of combining social realities with cinematic recall: Glock 17 in hand, Kersey searches for the marauders and, donning a Trayvon Martin–style hoodie, takes to the streets as a phantom vigilante.
These exploitation movie instincts are more honest than the PC button-pushing by Martin McDonagh, who based Three Billboards on implausible Americana and his own political hysteria. Roth's references to Chicago's surging murder rate pinpoints a right-now social crisis. The film's black and white local radio commentators (Sway, Heather B, and Mancow) call Chicago "City of Death." Their cross-racial indignation is clearer than the hodgepodge of Spike Lee's Chi-Raq (2015), while their civilians' ambivalence about the rampaging vigilante nicknamed "The Grim Reaper" brings home the same moral complexity as Zack Snyder's Batman v Superman.
Death Wish is not on the same level as Snyder's work, evidenced in the dazzling ethical whirligig of Suicide Squad, but when Kersey is told, "You defended your family like any man would," Roth evokes both personal and social responsibility. A satirical commercial for Jolly Roger's gun emporium leads to a split-screen montage of Kersey in surgery and on a firing range. Controversial ideas fly like bullets, yet Roth and screenwriter Joe Carnahan never resort to using that TV-debate canard "gun violence." Instead, an investigating police team (white male, black female) informs Kersey about the city's real-life emergency of "asshole-on-asshole" violence. Each detail critiques Chicago's exploitive Democratic government. How did Roth get a filming permit past Mayor Rahm Emanuel?
Roth skirts the racial subtext of Chicago's murder statistics, but no thinking viewer can avoid making associations about violence, poverty, and race that other mainstream media ignore, even after the Parkland, Fla., massacre. Roth and Carnahan could have thought out these associations more — a vigilante scene with a drug dealer named "Ice Cream Man" suggests wild potential — yet it's so rare to see filmmakers express conservative social leanings that one is simply grateful they include references to both Milton Friedman's Essays on Positive Economics and C. S. Lewis's The Lion, the Witch and the Wardrobe.
But Roth is a movie guy, so it's important to notice how Willis's stoical characterization (referred to as a "scrapper" in younger days) seems a world-weary update of John McClane, the ethical smart-ass of the Die Hard movies. Political-stooge film critics miss the point that Willis's fin de siècle heroism has aged into a bald, mournful but still manly figure, like a military veteran who transitions into politics. Stooge critics also miss that Roth has cast Elizabeth Shue and Vincent D'Onofrio as Chicagoans, each in differently tragic supporting roles. This Adventures in Babysitting reunion between former ingénue and superhero in that memorable urban night-world tale of 30 years ago (which is still superior to the Safdie brothers' Good Time) gives Roth his most poignant political statement: Our movie innocence is over.
ARMOND WHITE
— Armond White, a film critic, writes about movies for
National Review
and is the author of
New Position: The Prince Chronicles
, at Amazon.
@3xchair