Drew Sharp
, Detroit Free Press Columnist
http://www.freep.com/sports/
June 10, 2016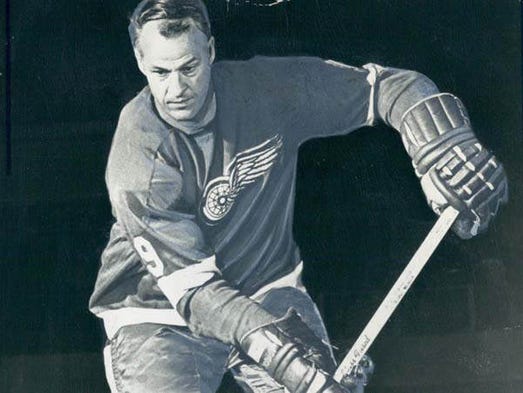 Gordie Howe, Detroit Red Wings 1969-1970.
Detroit Red Wings
The origins of Gordie Howe's toughness were evident in the first minutes of his life 88 years ago. His mother, Katharine, was chopping wood when she went into labor. She delivered the future king of her nation's passion without need of medical assistance. One of the lessons of living in rural Saskatchewan during that time was self-sufficiency, relying on whatever necessary to do the job.
Howe applied those same principles on the ice. If subtlety didn't work with some clever stick work, then he would deliver a not-so-subtle elbow to the head to get the message across. Nobody could move him off the puck. And if you tried, brace yourself for the impending punishment.
There was a perception of indestructibility through 32 seasons of playing professional hockey that advancing years and diminished health never lessened. Even when word first filtered out nearly two years ago that Howe suffered a serious stroke while staying with his daughter in Lubbock, Texas, the immediate reaction was that Howe would tough it out because that's what he always did. And he did stun his family by rebounding.
But there finally came the one fight Howe couldn't win. The combination of advanced age, the stroke and dementia took its final toll.
Murray Howe, one of Gordie's three sons, told the Free Press in October 2014 after the severe stroke that it felt like "this is his final lap around the rink." Murray had assumed the worst, but added that "he's about as strong as they get. If anybody can do it, he can."
In his first NHL game in 1946, Howe scored a goal and lost three teeth. His proclivity for physical confrontation coined the "Gordie Howe Hat Trick" (a goal, an assist and a fight), a distinction that still stands today.
He still played at high level at 51 years of age, and shared the ice with his other two sons, Mark and Marty.
Detroit has been blessed with many great athletes, but only two could anyone honestly classify as possibly the best ever in their respective fields — Joe Louis and Gordie Howe. Before Wayne Gretzky rewrote the NHL record book, there wasn't a more dynamic offensive force than Howe with the Red Wings. And nobody more feared when he went into the corners battling for a loose puck.
But even Gretzky and Bobby Orr — one half of hockey's Mt. Rushmore — deferred to Howe as the best ever.
In an interview he gave to his protégé Gretzky, promoting Howe's just released autobiography "Mr. Hockey: My Story," Mr. Hockey told the Great One that the iconic No. 9 was his second number with the Red Wings.
"Many people may not know that my first number with the Red Wings was No. 17 until early in my first season," Howe said. "The No. 9 became available and it was offered to me. We traveled by train back then. And guys with higher numbers got the top bunk on the sleeper car. No. 9 meant I got a lower berth on the train, which was much nicer than crawling into the top bunk."
Gretzky wore No. 99 in honor of Howe.
Those too young to remember Howe and the fabled Production Line patrolling the Olympia ice might never fully appreciate his enduring impact. To them, Gordie Howe was a product of grainy black-and-white images and stories from fathers and grandfathers of days when toughness wasn't hidden underneath a helmet or hidden behind an eye shield. But they will better understand in the coming days as hockey salutes the passing of a member of its royal family.
Detroit didn't just lose an icon. The entire sports world did.
Contact Drew Sharp: dsharp@freepress.com. Follow him on Twitter @drewsharp.