Alienated from the commercial country scene, 2015 has seen a group of more soulful artists find success on their own terms, and without the help of radio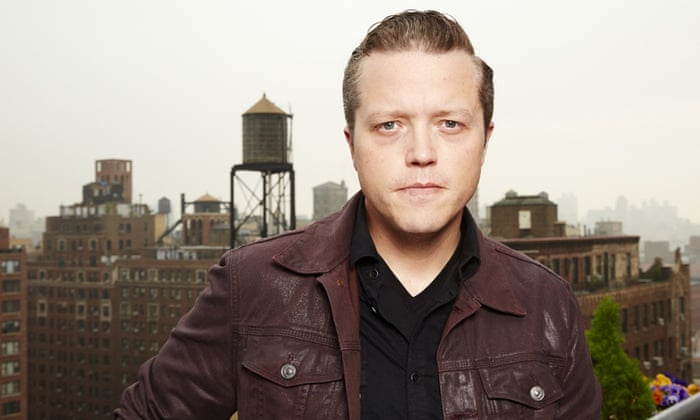 Jason Isbell: incisive in his disenchantment. Photograph: Dan Hallman/Invision/AP
By Grady Smith
28 July 2015
This week singer-songwriter
Jason Isbell
, the Alabama native whose breakout album
Southeastern
landed him on the top of many critics' year-end lists in 2013 (
this one included
), debuted in first place on
Billboard's country chart
with his latest set Something More Than Free. Despite being unknown to the vast majority of modern country music fans, Isbell's wildly acclaimed album sold about 46,000 copies, just a few hundred more than
Alan Jackson's Angels and Alcohol
, which wound up in second place.
Both these albums are excellent. Isbell's songwriting thrives because of his honest reflections about southern identity and working-class life that are rarely glamorous, but always incisive in their disenchantment. "You thought God was an architect," he sings on standout track
24 Frames
. "Now you know He's something like a pipe bomb ready to blow." Dave Cobb – who has become one of Nashville's most sought-after producers after delivering lauded LPs from
Sturgill Simpson
,
Chris Stapleton
and
Lindi Ortega
, not to mention Isbell's Southeastern – once again masterfully captures Isbell's ragged tone with simple and potent arrangements that ask you to lean into the sound rather than bop along with it. Though it's got clear roots in southern music, the album isn't exactly a straightforward country album. Tellingly, it was also listed as the No 1 album on
the rock and folk chart this week
too.
Jackson's disc is more upbeat, a little twangier and much more in line with what many listeners know as traditional country music. The veteran star, whose biggest career hits include
Chattahoochee
,
Don't Rock the Jukebox
and
Where Were You When the World Stopped Turning
, keeps things straightforward on Angels and Alcohol, and what a delight that he does. There is no Auto-Tune here, no drum machines or handclaps, no repeated "Hey!" shouts over the chorus, and no other concessions made to the embarrassing trends of modern country radio. Jackson just plays his songs (he wrote seven of the 10 tracks on his own), and the prominent steel guitars and fiddles augment his naturally jovial voice. Winsome songs like
You Can Always Come Home
and
When God Paints
don't feel at all out of place beside playful tracks like
Jim and Jack and Hank
. The collection is utterly charming.
It's exciting to watch quality musicians achieve major commercial recognition for their hard work. Good music is good music, and it's always nice when people actually hear it. But amid all
the blogosphere chatter
about how the success of artists like Isbell and Jackson is great for country music, I have to wonder whether that's really the case. On the one hand, these acts succeeding without the support of country radio seem like obvious evidence about where country music should be headed. Country fans are finding their music on their own already, so it's easy to dream about how well an artist like Stapleton or
Sturgill Simpson
would fare with the Nashville promotional machine fully behind them.
On the other hand, the success of these acts reveals a glaring dichotomy that has gradually developed in country music – namely, that the genre is splitting in two.
Country
radio isn't backing down from its data-driven quest to make country sound as broadly consumable to as many people as possible anytime soon. All the pop choruses, programmed drum beats, fast tempos, electric guitars, hip-hop cadences and other trends that have thrived in the business of mass-market country radio aren't going away. They've been good for the short-term bottom line, and even if they're hurting the long-term brand of country music, the immediate dollar signs are all that business folks can understand.
Jason Isbell wouldn't sound at home on country radio stations now, and it's almost inevitable he won't in the years to come – especially as stations are increasingly owned by only a handful of major corporations. In recent months, many country acts seem to be putting down their pitchforks and retreating from the battle about state of the genre. Trying to take back the soul of "country", which has become a massive marketing moniker that bears little to no resemblance to the country lifestyle, is feeling more and more like a fruitless battle.
Kacey Musgraves' label, Mercury Nashville, recently commissioned an indie radio promoter to take her music to Americana radio stations. They're still pursuing country airplay with her new single
Dime Store Cowgirl
, but it's notable that she's currently sitting at No 5 on the
Americana radio chart
– along with Jason Isbell, Emmylou Harris, Willie Nelson and Merle Haggard, Chris Stapleton, Dwight Yoakam, Kasey Chambers and Will Hoge, too – and excitedly
tweeting
about her success there. Country stars have long resisted artistic identities outside the country market, so as to not water down their stock with country radio programmers. But lately, those acts who have either gotten too old or who have been shunned by country radio altogether are beginning to seek greener pastures under various genres like the burgeoning umbrella genre Americana, which also encompasses folk, blues and rock. The countriest country stars working today are getting increasingly uninterested in being known as "country". And so, it appears the schism of country music has officially begun. Let's see where it goes from here.