By Hillel Atalie
The Associated Press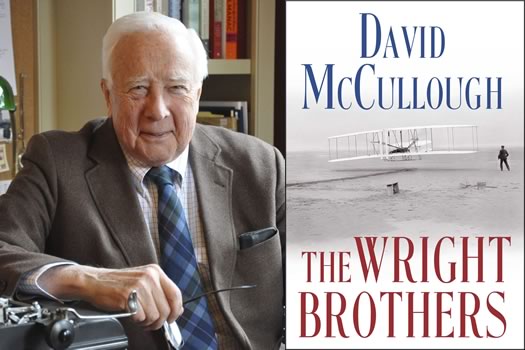 David McCullough's latest work of history followed a spontaneous path, from a book about many Americans in Paris in the 20th century to the biography of just two.
"Among the people I turned up were the Wright brothers, and it just astonished me that they were even in France, let alone that it had an important part to play in their story," says the two-time Pulitzer Prize winner, who will be in Raleigh this week promoting the recently published "The Wright Brothers.".
"Just reading about them, I realized how much more interesting they were, how much more compelling than I had any idea. And I thought, 'No, this is the book.'"
The 81-year-old McCullough sees "The Wright Brothers," already optioned by Tom Hanks for a planned miniseries, as the last of an unofficial "trilogy of accomplishment," following his landmark "The Great Bridge" about the Brooklyn Bridge and "The Path Between the Seas" about the Panama Canal.
Paris is part of the Wrights' story because they at first received more support from the French than from the Americans. McCullough also traces their childhood in Ohio, their devoted parents and Wilbur's relentless self-education, the bicycle shop where they first revealed their mechanical genius and the 1903 flight at Kitty Hawk that later allowed them to claim honors as the first successful pilots (McCullough dismisses recent claims by Connecticut officials that a resident of their state, Gustave Whitehead, was the real pioneer).
At first, he knew little more about the Wrights than did his editor at Simon & Schuster, Bob Bender, who confides in a reader's note in "The Wright Brothers" that he couldn't tell which brother was which (Short answer: Orville wore a mustache, Wilbur didn't). That's because McCullough insists on starting with a subject he knows little about.
"And that's something my academic friends find hard to understand," he says. "Because they're experts on a given era or a given group of people or an idea. I don't want to be an expert. Experts have all the answers; I have questions."
Over five years, he educated himself through reading and travel, visiting Kitty Hawk, Paris and other sites of their early experiments and looking through thousands of pages of letters and diaries.
McCullough tries to connect his books to the present and sees in the Wrights an exemplary case of persistence. They endured numerous failures, humiliations and near-fatal mishaps, including a crash that badly injured Orville and a ferocious mosquito attack that McCullough says would have sent him home "permanently, in absolute horror."
"There's an old novelist adage, 'Keep your hero in trouble,' and these fellows are in trouble all the time," he says.
"I was flying to California or somewhere and they came on the loudspeaker and said, 'We have reached our altitude of 35,000.' And there I am doing some rewriting of some chapters of these guys and I thought, 'Whoa, here I am, working on this book and I'm zooming along at 35,000 feet, all with other people who don't think a thing of it."
AN EVENING WITH DAVID MCCULLOUGH
When:
7 p.m., Thursday, May 21.
Where:
Duke Energy Center for the Performing Arts, Raleigh.
Sponsors:
The N.C. Museum of History Foundation and The News & Observer.
Tickets:
The event is sold out.