Duke head coach Mike Krzyzewski celebrates with Matt Jones after the second half of a college basketball regional final game against Gonzaga in the NCAA Tournament Sunday, March 29, 2015, in Houston. Duke won 66-52. (AP Photo/Charlie Riedel)
HOUSTON -
Jahlil Okafor
, the 6-foot-11, all-everything freshman center for the
Duke Blue Devils
, stood on a ladder for what seemed like too long.
For a program that will make its 16th Final Four appearance, cutting down nets is still a new experience for a team that plays four freshmen, including three starters.
"It's the youngest team I've ever had," Duke coach Mike Krzyzewski said. "No one would ever say that because it's Duke or because it's me."
Krzyzewski tied legendary UCLA coach John Wooden with his 12th Final Four appearance, yet his team's youth makes its trip to Indianapolis next weekend unlike any he has made before.
"He's obviously been to a bunch of Final Fours, but for him to be as happy for us as he was when he won his first one, says a lot about him," Okafor said.
In the one-and-done era, it's not surprising that a team led by a group of freshmen have reached the Final Four. Take your pick from Kentucky's recent teams or even go back to Carmelo Anthony and 2003 Syracuse. But it has never happened at Duke, and Krzyzewski said coaching USA Basketball helped him adapt.
"A teacher should learn with every new year that he or she has an opportunity to teach, because the students can bring out new things for you," Krzyzewski said. "If you're creative and see their talents and say oh, you know, 'Boy, look how they're meshing.'"
Of course, it's not only the freshmen who have helped Duke complete its run to the Final Four. With only eight players in the rotation, everyone plays a key role and no one has been more instrumental than senior guard
Quinn Cook
.
Many questioned if he could co-exist with
Tyus Jones
this season, as Cook's role changed from point guard to playing off the ball. Cook adapted and became the Blue Devils' unquestioned leader and the positive influence needed for such a young roster.
Cook said it was as simple as trusting in a process.
"Everybody is here for a reason," he said. "Since I've been here, a freshman has been a big part of our success, so everybody has to be ready."
Krzyzewski has depended on talented, one-and-done caliber players before including Kyrie Irving, Austin Rivers and, last season, Jabari Parker. This season Krzyzewski took a gamble by leaning so heavily on a group of rookies, but it has proven to be the right choice. On Sunday, leading 41-38, while in the air and out of bounds, Jones had the wherewithal to throw the ball off
Przemek Karnowski
, who had fallen on the floor and was also out of bounds, to save a possession.
Justise Winslow
, who tied
Matt Jones
with a game-high 16 points, provided the dagger 3-point shot with 2:42 left to put the Blue Devils up nine.
Okafor, who has endured a season-long knock on his defense, deflected and stole a
Kevin Pangos
pass and dribbled from midcourt for a layup.
"Coach always used to talk about the difference between game pressure and tournament pressure," said Grant Hill, who won titles in 1991 and 1992 with the Blue Devils and called the game for CBS. "They've handled that tournament pressure. They were tested a bit in the second half, ... They showed a lot of grit, a lot of fight."
So when Gonzaga went on a 12-3 run after intermission and took its biggest lead of the game, the Blue Devils didn't show any signs of panic.
[+] Enlarge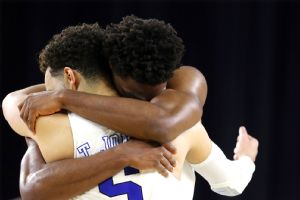 Ronald Martinez/Getty ImagesTyus Jones, Jahlil Okafor, Justise Winslow rank in the Blue Devils' top four in minutes played per game.
"It was just a point where we know we're better than that," Jones said. "We came out at halftime not as strong, but basketball is a game of runs so we looked at it like now we have to go on one."
Jon Scheyer was a starting guard on the 2010 national championship team, the last time Duke reached the Final Four. Now an assistant coach, Scheyer said the freshmen had a toughness that took three years for his senior class to develop.
Scheyer said it started with
the win at Wisconsin
. That gave the group confirmation that their confidence shouldn't be confused with arrogance.
"By the time we got to be juniors and seniors, I feel like we were tougher than anybody we played, and this group has just done that on their own," Scheyer said. "I think it's just who they are."
As he did in Charlotte, North Carolina, when the Blue Devils were seconds away from advancing to the Sweet 16, Krzyzewski unexpectedly relaxed his thoughtful scowl. Then he happily proclaimed in a late timeout huddle, "We're going to Indianapolis."
"For it to finally be here, we are not satisfied, but we are very happy with what we have accomplished," Winslow said. "We've got two more, and I can't wait to get to Indianapolis."