By
J.A. Adande
http://espn.go.com/nba/dailydime
June 13, 2014
MIAMI -- The only thing the
San Antonio Spurs
aren't doing better than the
Miami Heat
right now is talking about what the Spurs are doing better than the Heat.
No Spur has stepped to a microphone and summed up the past two games of these NBA Finals -- in which the Spurs outscored the Heat by 40 total points to take a 3-1 lead in the series -- as well as
LeBron James
did Thursday night.
"They're a high-oiled machine, and they move the ball extremely well," James said after a 107-86 loss in Game 4. "They put you in so many difficult positions. If you're not right on time, right on target, they're going to make you pay for it."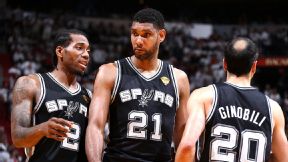 Nathaniel S. Butler/NBAE/Getty ImagesAfter dominating the Heat on their home court, the Spurs eye a closing Game 5.
See, that's much better than what was said by Gregg Popovich, who previously made no attempt to explain the nearly inexplicable 76 percent-shooting first half the Spurs enjoyed in Game 3. He summed up their Game 4 success with relatively tame 57 percent shooting by saying, "Well, if you shoot [57] percent, you're in pretty good shape, as long as everything else is copacetic."
More postgame analysis from Popovich: "I thought we did a better job tonight than we did in Game 3 at the defensive end."
Then again, sometimes Popovich gives one-word answers for no other reason than they're the most efficient ways of communicating his message. Take the second (and final) question asked of him before Game 4.
From the official transcript:
Q: "Last Finals and this Finals has been a series of adjustments. Do you feel you have something to change from the way you guys played Game 3 to the way you guys are going to play Game 4? Something strong that you have to change?"
COACH GREGG POPOVICH: "No."
No further explanation necessary, because the Spurs don't change from night to night. They've certainly evolved over the years, but their style of play in their dismantling of the Heat in Game 4 wasn't all that different from the way they played in January.
Even now, with the Larry O'Brien trophy only a victory away from their grasp, this feels more like a culmination than a coronation.
"It's coming together," Spurs guard
Danny Green
said. "This is the result of us working on this all season long, to become one of the best teams or last teams standing."
The Spurs are about the ongoing quest for improvement, not the quick fix. Their answers to setbacks are better execution of their system, not desperate reaches into the bag to see what can be pulled out (such as Heat coach Erik Spoelstra's sending in
Toney Douglas
in the second quarter of the fourth Finals game).
Even swapping
Boris Diaw
for the
Tiago Splitter
in the starting lineup didn't qualify as a drastic shakeup. Diaw was already logging a starter's time, playing 65 minutes to Splitter's 42 minutes in the first two games. The only difference was hearing his name over the loudspeaker before tipoff.
It almost doesn't matter who plays when for the Spurs anymore.
Patty Mills
chipped in 14 points. That's one reason the Spurs won easily even though Manu Ginobili scored only seven points. Duncan had 10, but those double digits were important because, along with his 11 rebounds, it helped him establish a career record for playoff double-doubles (158). It was a rare moment that a Spurs' contribution meant more to an individual than the team.
The Spurs make it tough to single out an individual for praise. Who's the leading candidate for the
Bill Russell
award given to the Finals MVP? I'd go with
Kawhi Leonard
, even though he didn't make much of an impact in the first two games. He was the star of Game 3 with 29 points, and he followed that with 20 points and 14 rebounds in Game 4.
And his defense on James is so indicative of the difference between last year's series and this year's. The Spurs insist they haven't changed their schemes, which tried to bait James into taking midrange jumpers in 2013. The only modification is that this year Leonard is being more aggressive, meeting James sooner, preventing him from gaining momentum or rhythm.
The Spurs have methodically unwound the premise of the Heat. On any given night, the Heat were supposed to have the best player on the court. Some nights the two best players. When they really had it going, the three best players.
But Leonard outplayed James in Game 3. And even though James had 28 points in Game 4, both
Tony Parker
(19 points) and Mills (14 points) got the better of
Dwyane Wade
(10 points on 3-for-13 shooting). Diaw had eight points, nine rebounds and nine assists, besting Bosh in the latter two categories.
The Spurs are overwhelming the Heat with waves. Waves of players, waves of help defenders, waves of passes. They had 25 more assists in Game 4, almost twice as many as the Heat.
The Spurs' patience is the worst thing for a Heat team that's showing the effects of playing 86 playoff games in the past four years. It takes a physical and mental stamina to challenge the Spurs that the Heat just don't have right now.
"They put you in positions that no other team in this league does," James said. "It's tough because you have to cover the ball first, but also those guys on the weak side can do multiple things. They can shoot the ball from outside, they can also penetrate. So our defense is geared toward running guys off the 3-point line, but at the same time, those guys are getting full steam ahead and getting to the rim, too."
Bosh added: "They're just one of those teams -- if you make mistakes, especially early, they're going to capitalize very quickly.
"They're doing a very good job of starting fast. Not only starting fast, but they're hitting their shots and getting to the basket, getting to the free throw line. They're pretty much getting everything they want."
What the Spurs want more than anything is to get this over with -- to stop talking about last year's disappointment and adjustments and what it will take to close out the Heat and actually do this thing.
They're one victory away from the franchise's fifth championship. It's close enough that they can practically see the yellow rope surrounding the court. All of the pieces of the stage will be in the hallway, ready to get rolled out for the championship celebration.
And the Spurs will, in all likelihood, treat it like just another game.