By
GREGG
DOYEL
http://www.cbssports.com/
March 24, 2014
Kentucky showed us how to win: Size, athletes, shooting. That's one way to do it. Iowa State showed another: Resilience, refusal to wilt, playing for an injured teammate.
In all, 16 teams showed us 16 different ways to win this past weekend at the
NCAA Tournament
.
Three coaches showed us how to lose.
Losing matters, see. Anyone can do it, and eventually everyone will do it -- and not just in basketball or sports. In life. You apply for a job, you don't get it. Guess what? You lost. It happens, and it will happen over and over, and when it does happen, try to be like Greg McDermott or Roy Williams or Mike Krzyzewski.
Yeah, you read those three names correctly. Don't like one or more of those three guys? Fine by me, but consider this your warning. Because if you keep reading and decide that you just might like them after all, well, that's on you.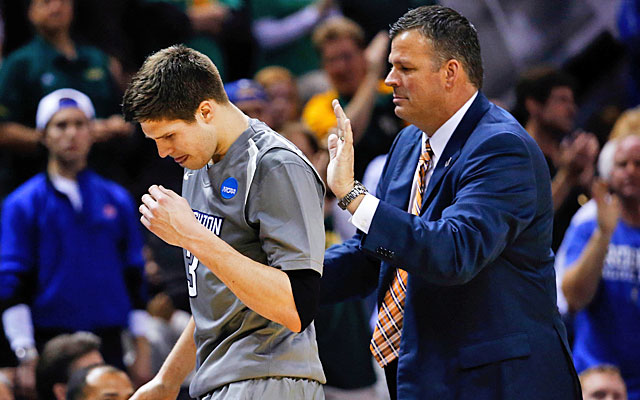 After watching his son's college career end, Greg McDermott made time to ask after a colleague.
(USATSI)
Bigger than basketball
There's defeat, and then there's what
Creighton's
Greg McDermott lost on Sunday: His son on his team.
Creighton was crushed 85-55 by Baylor, ending not just Creighton's season but also the college career of Creighton senior Doug McDermott, Greg's son. All of that was swirling through the elder McDermott's head roughly 10 minutes after the final horn when it was time to speak about this game, this humiliation, with the media.
McDermott was walking to the interview room when he bumped into someone in Baylor gear -- the father of Baylor coach Scott Drew, ex-Valparaiso coach Homer Drew.
Homer Drew knows about coaching his son. It was Bryce, who replaced his father as the coach at Valpo in 2011, who authored one of the more memorable
March Madness
moments in 1998 with a buzzer-beater that lifted 13th-seeded Valpo past fourth-seeded Ole Miss. There they were on Sunday, two fathers acknowledging their shared experiences, when Greg McDermott had to go. The news conference was waiting.
But wait. This was more important than a news conference, this question Greg McDermott needed to ask the father of the coach whose Baylor team had just ended Creighton's season.
"How's your family?"
Homer Drew's wife was diagnosed in 2011 with cancer. That was just a few days after Homer himself had been diagnosed with cancer. Both underwent surgery. Both are doing as well as can be expected after such an ordeal.
Greg McDermott found out, because he cared enough to ask. Ten minutes after a loss ended his son's career at Creighton.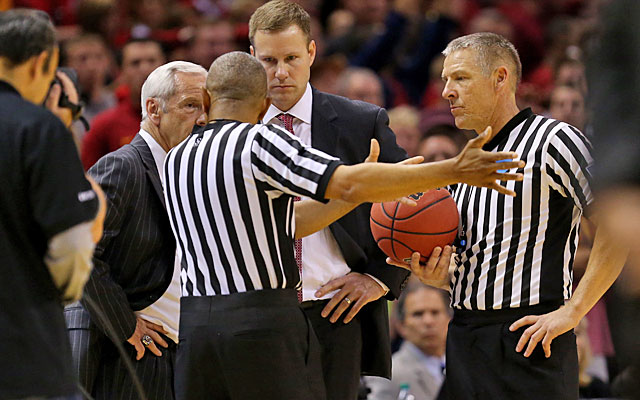 Roy Williams was told his season was over, then he calmly congratulated Fred Hoiberg.
(Getty Images)
Going out with dignity
Iowa State beat
North Carolina
with a late shot and then ... confusion. If you saw the game,
or the highlight
, you know what happened: Iowa State's DeAndre Kane hit a driving layup with 1.6 seconds left for an 85-83 lead, and then North Carolina inbounded the ball to Nate Britt, who dribbled across half-court and called timeout just before the buzzer.
So it seemed. Officials huddled, studied the monitor, huddled some more. UNC coach Roy Williams was coaching his team for one last shot when he and Iowa State's Fred Hoiberg were called to midcourt to hear exactly how much time would be put on the clock:
None. Game over.
That's what you saw if you were watching live on TV -- and if you were, congratulations. Because here's what you saw next:
Roy Williams accepting that decision without hesitation. Not an angry face, not an angry word, nothing. Roy Williams listened to the referee telling him that all hope was gone, that his season was over, and he responded by shaking Hoiberg's hand and heading down the sideline to congratulate the rest of the victorious Cyclones.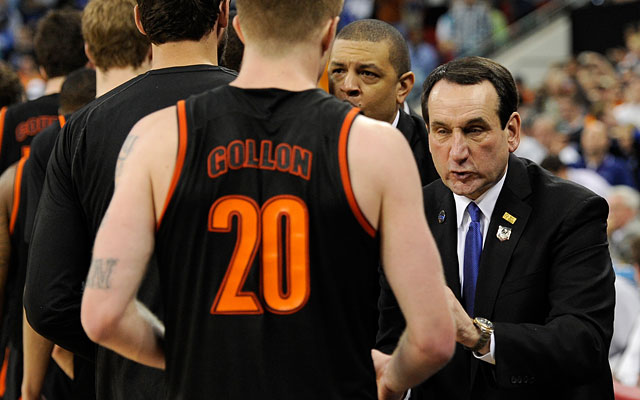 Coach K did the handshake line on the court, then had kind words in the Mercer locker room.
(Getty Images)
'Pretty unbelievable'
Saved the best for last, because it's Krzyzewski. No, Coach K's reaction to defeat wasn't any better than that of Greg McDermott or Roy Williams -- wasn't any worse, either -- but this is the best because it's Coach K. And unless you're a
Duke
fan, you probably don't like Coach K. He wins too much, curses too much, works the officials too much. Whatever. You don't like him.
And during the Mercer game Friday, he was dislikable. Hey, that's the way he coaches and it works for him and it gives bragging rights to his fan base -- but when the game's going and he's pounding on the officials from the opening tap because working the ref is psychological warfare and Coach K is all about getting any advantage for his team, well, the rest of us aren't going to like it. Or him for doing it.
But these people aren't one-dimensional characters. They're complicated, good and bad, and if Coach K was at his worst during the game, so be it.
But he was at his best after it.
Fourteenth-seeded Mercer had just upset his third-seeded Blue Devils, and Coach K's voice was hoarse, but he had one more thing to say. And he had to say it to the Mercer Bears. So he walked into their locker room after the game and uncorked the following verbal masterpiece:
"You guys have a hell of a basketball team," he said, then started
tapping the spot above his heart
. "I love the game -- and you guys play the game really, really well and your coach coaches it well. If we had to be beaten, I'm glad we got beaten by a hell of a basketball team. So good luck to you."
This is how Mercer's Daniel Coursey reacted to that: By smiling and blurting out two words:
"My god."
And then Coursey continued.
"That's huge," he said. "Coach K is one of the most famous basketball coaches -- ever -- and for him to just come in here and tell us we're a great basketball team ... that's pretty unbelievable to tell you the truth."