By Ann Coulter
http://www.anncoulter.com/
January 22, 2014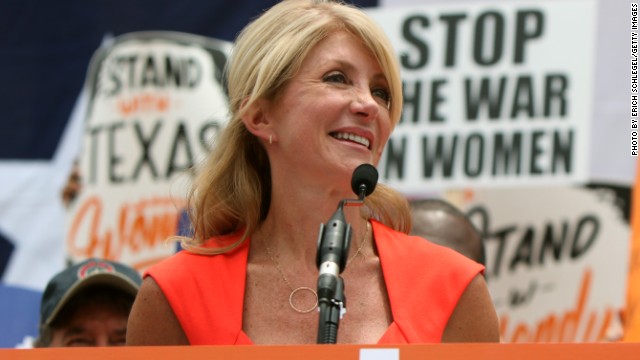 Wendy Davis, the Texas state senator running for governor, became a liberal superhero last June when she filibustered a bill to prohibit abortions after 20 weeks. (This was the good filibuster, not that awful filibuster three months later by Ted Cruz -- that was just grandstanding.)

Apart from her enthusiasm for abortion (and you have to admit, abortion is really cool), the centerpiece of Davis' campaign is her life story. Also the fact that she's a progressive woman who doesn't look like Betty Friedan.

In a typical formulation, Time magazine said Davis was someone who could give the Democrats "'real people' credibility," based on "her own personal story -- an absent father, a sixth-grade-educated mother, a teen pregnancy, followed by life as a single mom in a mobile home, then community college and, at last, Harvard Law School."

The headlines capture the essence of Wendy-mania:

CNN: Wendy Davis: From Teen Mom to Harvard Law to Famous Filibuster

Bloomberg: Texas Filibuster Star Rose From Teen Mom to Harvard Law

The Independent (UK): Wendy Davis: Single Mother From Trailer Park Who Has Become Heroine of Pro-Choice Movement

Cosmopolitan: Find a Sugar Daddy to Put You Through Law School!

Actually, that last one I made up, but as we now know, it's more accurate than Davis' rags-to-riches life story.

The truth was gently revealed in the Dallas Morning News this week. Far from an attack, this was a puff-piece written by Wayne Slater, rabid partisan Democratic hack and co-author of the book, "Bush's Brain." (He is not an admirer of Bush's brain.) It would be like Sean Hannity breaking a scandal about Ted Cruz.

The first hint that Slater was trying to help Davis get ahead of the story and tilt it her way is his comment that Davis' life story is "more complicated" than her version -- i.e., completely the opposite -- adding, "as often happens when public figures aim to define themselves."

Actually, the truth is much simpler than her story. Also, be sure to look for that "as often happens" excuse the next time a Republican gets caught lying about his resume.

Slater's peculiar obsession with whether Davis was 19 or 21 when she got her first divorce, and exactly how long she lived in a trailer home, is meant to deflect attention from something much more problematic: the huge whoppers Davis told.

Her big lies were about the obstacles she had to overcome and how she overcame them, not about how old she was at the time of her first divorce.

She claims she was raised by a single mother, went to work at age 14 to support her family, became a single mother herself in her teens, and then -- by sheer pluck and determination -- pulled herself out of the trailer park to graduate from Harvard Law School!

The truth is less coal-miner's daughter than gold-digger who found a sugar daddy to raise her kids and pay for her education.

Point No. 1: Davis' family wasn't working-class. Her father owned a sandwich shop and a dinner theater, which puts Davis solidly into middle-class land.

Point No. 2: No one who works at MSNBC would know this, but everyone whose parents run a family business starts work at age 14, if not sooner.

Point No. 3: Her parents were separated, but that is not the commonly accepted meaning of "single mother."

Point No. 4: As for being a single mother at age 19 -- she wasn't a "single mother" in the traditional sense, either. She was married at age 18, had a child at 19 and divorced her first husband, a construction worker, at 21. (He couldn't afford tuition at Harvard.)

So she got married young? That isn't a hard-luck story. Well into the 1950s, nearly half of all first-born children were born to married women under the age of 20.

But Wendy Davis' harrowing nightmare of poverty and sacrifice wasn't over yet.

Just a few years after her first divorce, Wendy was on the make, asking to date Jeff Davis, a rich lawyer 13 years her senior, who frequented her father's dinner club. In short order, they married and had a child together.

The next thing Jeff Davis knew, he was paying off her college tuition, raising their kids by himself and taking out a loan to send her to Harvard Law School.

(Feminists rushed to the stores to buy the shoes Davis wore during her famous filibuster. I'd like the shoes she was wearing when she met her sugar daddy.)

Then Wendy left her kids with the sugar daddy in Texas -- even the daughter from her first marriage -- while she attended Harvard Law.

Slater says Davis' kids lived with Jeff Davis in Texas while she attended law school. Wendy Davis claims her girls lived with her during her first year of law school. Let's say that's true. Why not the other two years? And what was the matter with the University of Texas Law School?

Sorry, MSNBC, I know you want to fixate on how many months Davis spent in the trailer park and her precise age when the first divorce went through. And that would be an incredibly stupid thing for conservatives to obsess on, if they were, in fact, obsessing on it. But I'm still stuck on her leaving her kids behind while she headed off to a law school 1,500 miles away.

The reason Wendy Davis' apocryphal story was impressive is that single mothers have to run a household, take care of kids and provide for a family all by themselves. But Wendy was neither supporting her kids, nor raising them. If someone else is taking care of your kids and paying your tuition, that's not amazing.

Hey -- maybe Jeff Davis should run for governor! He's the one who raised two kids, including a stepdaughter, while holding down a job and paying for his wife's law school. There's a hard-luck story!

Mr. Davis told the Dallas Morning News that Wendy dumped him as soon as he had finished paying off her Harvard Law School loan. "It was ironic," he said. "I made the last payment, and it was the next day she left."

In his defense, a lot of people are confused about the meaning of "ironic." That's not "ironic." Rather, it's what we call: "entirely predictable."

It's ironic -- my car stopped running right after I ran out of gas.

It's ironic -- my house was broken into, and the next thing I knew all my valuables were missing.

It's ironic -- I was punched in the face right before my nose broke.

In his petition for divorce, Mr. Davis accused his wife of adultery. The court made no finding on infidelity, but awarded him full custody of their underage child and ordered Wendy to pay child support.

Wendy boasted to the Dallas Morning News: "I very willingly, as part of my divorce settlement, paid child support." Would a divorced dad get a medal for saying that?

In response to Wayne Slater's faux-"expose," naturally Davis put out a statement denouncing ... her probable Republican opponent, Greg Abbott. Again, Slater wrote the story. But Davis blathered on, blaming Abbott for the Dallas Morning News story and complaining that he hasn't "walked a day in my shoes."

About that she's certainly right. Greg Abbott could never walk a day in her shoes or anyone else's. He's a paraplegic confined to a wheelchair.

I guess Wendy could teach him a lot about suffering.

Davis also said these attacks "won't work, because my story is the story of millions of Texas women ..." Yes, for example, Anna Nicole Smith. Though at least Smith had the decency not to ask for a paid education.

COPYRIGHT 2013 ANN COULTER