Published:
10 January 2014 06:31 PM
Updated:
10 January 2014 06:31 PM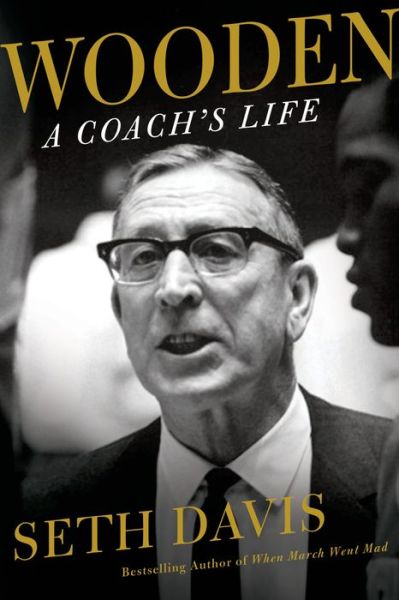 To admirers, John Wooden was the "Wizard of Westwood," a coach whose UCLA teams set the standard for excellence and whose integrity embodied the highest ideals of college athletics.
To detractors, he was "Saint John," a hypocrite whose program broke the rules while the NCAA turned a blind eye and whose actions fell short of the ideals he championed in his much-promoted "Pyramid of Success."
Seth Davis, a senior writer at Sports Illustrated, digs deep into Wooden's past and finds evidence to support both views. What emerges is a nuanced biography, unflinching but not ungenerous.
The book clocks in at more than 500 pages and is bolstered by extensive research, but it doesn't feel like a slog. Davis draws the reader in from the beginning, recounting in spare, elegant prose the events that shaped Wooden's early life: the loss of the family farm and the deaths of his two sisters (one from diphtheria, one at birth).
Basketball was relatively new when Wooden was a teen, and Indiana — where many towns were too small to field football teams — embraced it. Davis details Wooden's playing days as a quick-dribbling guard first at Martinsville High School and then at Purdue University, where he earned All-America honors.
After graduation, Wooden married his high school sweetheart, Nell, and took a series of jobs teaching high school English and coaching. Davis unearths a previously unreported fact: Wooden had a losing record one year at South Bend High, something he later airbrushed from his résumé. It's a small detail, but a telling one for a man who staked his reputation on honesty.
After serving stateside in World War II, Wooden took his first college coaching job, at what is now Indiana State University. His conduct there during the Jim Crow era earns some of the toughest scrutiny in the book.
Davis makes a persuasive case that Wooden was not a bigot. His teams — both high school and college — were integrated, and on road trips he tried to avoid segregated businesses. Players recall once eating a picnic lunch in a park when no restaurant could be found to serve the entire team.
But Wooden also left a black player home when the logistics for a road trip proved too complicated. And when the school declined to play in a prestigious — but segregated — postseason tournament, the official explanation sidestepped the issue. The tournament's ban on black players was dropped the next season only after other schools took a public stand, something Wooden was unwilling to do.
In 1948, Wooden moved to UCLA, where he became a legend. The highlights here are familiar — the development of talents such as Kareem Abdul-Jabbar (then known as Lew Alcindor) and Bill Walton, the unprecedented 10 NCAA titles in 12 seasons.
But Davis doesn't overlook situations where Wooden took credit for his assistants' work or employed tactics he had criticized with other coaches. He notes that Wooden, despite his grandfatherly mien, was emotionally distant with his players. He addresses head-on the topic of Sam Gilbert, the booster whose generosity fueled rumors of NCAA violations. Davis seems persuaded by the arguments that the NCAA deliberately chose not to investigate and that if Wooden, a notorious control freak, didn't know what was going on, he didn't want to know.
The UCLA section of the book contains a lot of play-by-play, and casual basketball fans might lose heart. Skim if you must, but keep reading, because the final section ties up some loose ends nicely.
Wooden lived to be nearly 100, and his life reflects, in many ways, a century of American progress. Born into a family affected by the loss of a child to a disease that vaccines later eradicated, he struggled — sometimes imperfectly — through the civil rights era and the tumult of the 1960s, saw college athletics and his adopted hometown grow exponentially, and then bore the burdens of old age gracefully. The bio does a masterful job putting his life in context.
Davis interviewed Wooden a handful of times and was clearly charmed, which only strengthens the book. This is neither takedown nor hagiography, but a clear-eyed look at a flawed but extraordinary man.
Shawna Seed is a former deputy sports editor at The Dallas Morning News and a former editor at ESPN.com. She graduated from the University of Kansas, the second-winningest program in college basketball history. Her second book, Not in Time, a novel about the search for looted art, was released in December.
books@dallasnews.com
Wooden
A Coach's Life
Seth Davis
(Times Books, $35)