Former Telegraph editor Charles Moore to publish authorised Thatcher biography, Not For Turning, immediately after funeral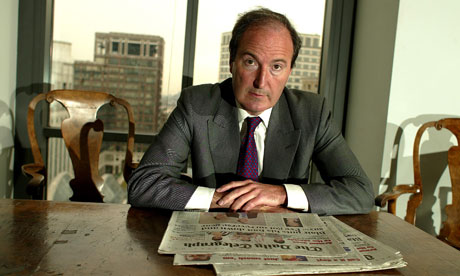 Lady Thatcher's funeral next Wednesday will coincide with the publication date of a book expected to become an instant bestseller.
Not For Turning, the first volume of Charles Moore's authorised biography, is likely to fly off the shelves within hours of the ceremony at St Paul's Cathedral.
Moore, who told the Guardian with some embarrassment that he had been contractually forbidden to speak to newspapers, is a former editor of the Sunday and Daily Telegraph, who resigned from the latter position in 2003 to focus on the biography.
The book was commissioned in 1997 and Moore had been granted unprecedented access to Thatcher's private papers, including her extensive correspondence with a shadowy figure in previous biographies, her older sister, Muriel, who died in 2004.
He also conducted hours of interviews with the former premier and received her blessing for further extensive interviews with friends and colleagues, staff and her family.
Stuart Profitt, a director at the publisher Allen Lane, said the book would supersede previous efforts. He admitted he was astonished at how much information on Thatcher had not been made public before. "At the moment when she becomes a historical figure, this book also makes her into a three-dimensional one for the first time," he said.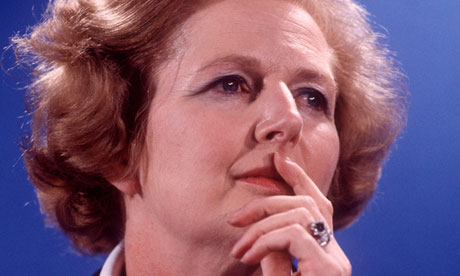 "Moore is clearly an admirer of his subject, but he does not shy away from criticising her or identifying weaknesses and mistakes where he feels it is justified."
The contract for the biography provided that nothing would be published until after Thatcher's death.
Within hours of the official announcement from her family on Monday, Allen Lane, the imprint of Penguin Books, said the first volume, which ends with the dinner party to celebrate victory in the Falklands war, would be published immediately after the funeral. Moore is working on the second volume, Herself Alone.
In a series of interviews 18 months ago, posted on the Conservative Home website, when he still had no idea when his work would be published, Moore said he had a particularly sharp view of Thatcher's career, as her election as prime minister coincided with his arrival in Fleet Street in 1979.
He said during the years he has devoted to the project, he had seen a steady rise in Thatcher's reputation. "You often get people who say – not necessarily people who agree with her – 'we need a Maggie Thatcher'," he said.
Although at 56, he is too old to count as a young fogey, the Eton- and Cambridge-educated Moore has always appeared to revel in his archconservative image.
His column in the Spectator magazine frequently includes vignettes from his home village of Etchingham in East Sussex (it was raining heavily there in January) and he was recently affronted by a waitress who had never encountered a cork – as opposed to a screw cap – in a wine bottle. He listed "hunting" as his only hobby in a recent Who's Who.
In 2010, Moore was convicted at Hastings magistrates court and fined £262, plus £530 costs, for an unpaid television licence.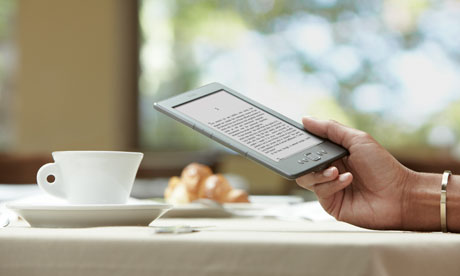 His refusal to pay the fee was a protest against the BBC's decision not to sack Jonathan Ross over the prank phonecalls the presenter and the comedian Russell Brand made to the actor Andrew Sachs. "It was against my conscience," he told the court.
His book, 16 years in the making, will be beaten to the shops by the Iron Lady's own offering. HarperCollins has announced the imminent publication of the first single volume edition of Thatcher's autobiography, originally published in 1993 and 1995, which has sold more than 1m copies.
Thatcher tomes
There are already enough Margaret Thatcher books – biographies, hagiographies, compilations of speeches, commentaries and the Iron Lady's own two hefty volumes oftwo-volume autobiography – to fill a small library, with many more on the way, two with the same title, Not For Turning.
• Margaret, Daughter of Beatrice (1989) A politician's psycho-biography by Leo Abse, former Labour MP, who deduced much from Thatcher's failure to refer to her mother.
• One of Us (1989) Bestselling biography by Guardian columnist Hugo Young.
• Kill the Messenger (1991) Press officer Bernard Ingham's account of the Thatcher years.
• The Downing Street Years (1993) and The Path to Power (1995) The two-volume autobiography.
• Margaret Thatcher (2005) A tribute in words and pictures by journalist Iain Dale, also author of The Margaret Thatcher Book of Quotations.
• The Real Iron Lady, Working with Margaret Thatcher (March 2013) By former cabinet member Gillian Shepherd, once tipped as a potential successor. "Are we really that desperate?" Thatcher is reported to have said about that.
• Margaret Thatcher, The Autobiography (April 2013) The autobiography for the first time as a single-volume ebook, due out this week, to be followed by hardback and paperback editions and an audiobook read by Thatcher herself.
• The Grocer's Daughter (2000) and The Iron Lady (2003) Two-volume biography by John Campbell, who became a consultant on the 2011 Academy Award-winning film, The Iron Lady. It was abridged in a single volume in 2009, which is heading Amazon's Thatcher bestseller list.
• Not For Turning (17 April 2013) Volume one of Charles Moore's authorised biography.
• Not For Turning (25 April 2013) Biography by Robin Harris, her scriptwriter who also helped with her autobiography.
• This article was amended on 11 April 2013. The original gave the title of Hugo Young's biography of Margaret Thatcher as The Iron Lady and said it was published in 1990. It was given that title in the US, but it was first published in 1989, and in Britain its title was One of Us.